Mammut Alpine Light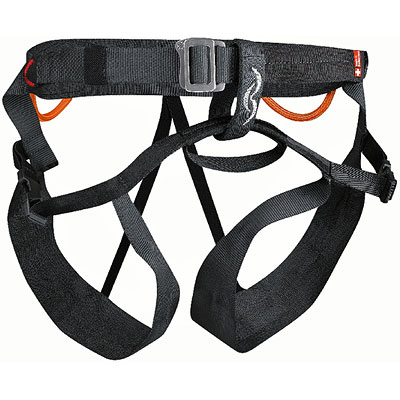 economical
classic alpine design
leg loop buckles
9.9 ounces
Mammut has revamped its Alpine Light climbing harness, adding a few welcome features that enhance comfort and usability while keeping overall weight low.
The Alpine Light is a classic Alpine harness in the style of Black Diamond's Alpine Bod. These are unpadded harnesses designed not so much for regular rock climbing duty as general mountaineering. Ski mountaineers will like the Alpine Light's modest 9.9 ounce weight (men's medium, measured), as well as the leg loop release buckles.
When climbing calls, the updated Alpine Light now includes a belay loop to keep your belay device aligned properly and make rappelling easier. You also get a no-frills two gear loops and a rear haul loop. The Alpine Light is light but not flimsy, rugged enough to handle sharp rock edges and whatever else you throw at it.
Mammut has added a Hypalon skeleton to improve the structure of the Alpine Light without adding weight—a nifty trick. Still, the Alpine Light is not nearly in the class of Arcteryx's R320, for example, in terms of comfort. You won't want to spend a great deal of time hanging or rappelling in it. Sport and Trad climbers will likely want to look elsewhere to suit their needs.
The waist belt now locks via a "click" buckle. This design eschews the traditional back-around buckle, which may confuse your partners during a gear check, as it can appear that the Alpine Light's belt is not properly threaded even when it is. For that matter, trying to close it correctly may confuse you as well (as far as I can tell, the photo on Mammut's website is incorrect). Let's call it 'not recommended' for neophyte climbers. On the plus side, you can quickly click open the waist with ease.
Probably the bottom line on the Alpine Light is that it is light and cheap. Unlike Black Diamond's simple-to-use Alpine Bod, this is not as good a choice for your first mountaineering class or roped climb. The design is definitely a bit dated, and the newer crop of harnesses offer better performance and features for the same weight or less—albeit at a higher price.