Petzl Elios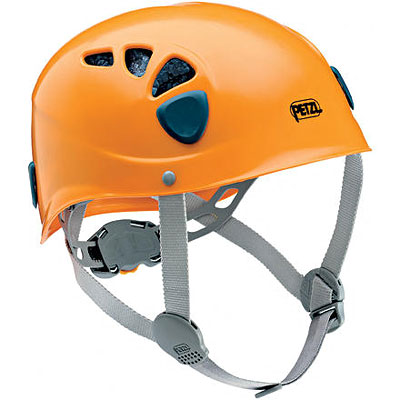 simple and smart
durable
two sizes
10oz (small)
The Elios is the generalist of Petzl's climbing helmet lineup, offering a dash of something for everyone rather than specializing in any given category.
While not as light as the very-light Meteor III+, the Elios is hardly a burden to carry, weighing a modest 10 ounces (size 1). Unlike many ultralight helmets, the Elios is rugged enough to survive the usual knocks and dings of a climbing season without automatically needing an early retirement.
As an all-rounder, the Elios is very similar in look and feel to Black Diamond's revised Half Dome helmet. Ventilation with the Elios is not on par with an ultralight helmet, but once again is very similar to the Half Dome. With either helmet, note that less ventilation will be preferred in some contexts (for example, winter climbing).
Despite the helmet's classic look, Petzl has given the Elios a fully modern feature set, including an improved dial-adjustment system that is easy to change while wearing the helmet, and an impressively adjustable suspension. That plus two available sizing options make it likely you'll enjoy a comfortable fit regardless of your head size.
Petzl has also added little details that further enhance comfort, including narrower straps overall, and a redesigned chin strap buckle that is offset to keep it from bugging you. Inside the helmet is an expanded polypropylene liner to help absorb impacts. The Elios is also compatible with Petzl's Vizion face shield.
Additional features include four well-placed headlamp clips for secure headlamp attachment, and of course CE/UIAA safety certification. If style is on your mind, the Elios comes in a variety of colors. The Elios' combination of a simple yet fully-featured design plus low pricing make this an appealing choice. If you're looking for an all-around climbing and mountaineering helmet (and an ultralight design is not suitable for your needs), give it a try.