Petzl Hirundos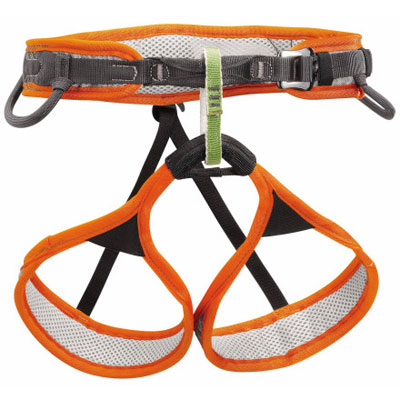 breathable mesh
sport climbing
comfortable
11.0 ounces
Petzl's Hirundos is a lightweight sport climbing harness with a unique ventilated mesh design for enhanced next-to-skin comfort.
The Hirundos looks like a solid pick for long climbs in warm weather. At eleven ounces even, the Hirundos is perhaps not truly in the ultralight category, but it is a fully featured harness, including four gear loops and a belay loop. The leg loops are elasticized to keep them snug. That said, I found the fit of the size-medium Hirundos much roomier than my Arcteryx R320. The leg loops have a significantly larger range of expansion to fit a wider range of body types.
I like the pre-threaded double-back waist belt buckle, which helps prevent user error when it comes to putting on the harness correctly. Tie-in points are reinforced for extra durability, and the belay loop is color-coded so you always clip into the right place. Overall I found the Hirundos refreshingly easy to use—a definite plus. You don't want your harness perpetually confusing or challenging you.
The Hirundos is probably not as good a choice for more mountaineering-oriented pursuits. The breathable mesh design would seem to make the harness more susceptible to wear in harsh Alpine environments. Compared to a cutting-edge harness like the R320, the Hirundos does not do as good a job of distributing weight while you're rappelling or hanging—though the padded loops are more comfortable than a bare-bones harness.
North American customers may find Petzl's Euro-themed colors a bit loud. Other than these complaints, the low-profile Hirundos is a smart choice for sport climbers. I wish the Hirundos weighed in about two ounces lower to make it a true 10/10, but overall let's give it high marks for its strong performance, good price, and definitely better-than-average comfort on lazy Summer days.