Backcountry Access Alpine Trekker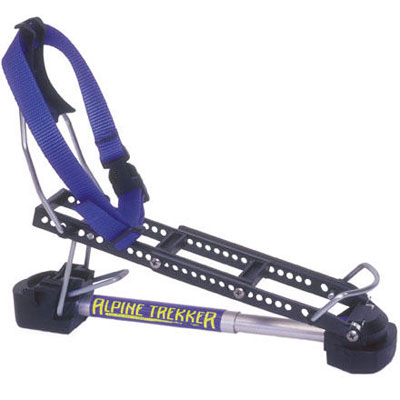 innovative
no downhill compromise
inefficient climbing
2.7 lbs/pair
Backcountry Access's Alpine Trekker offers an innovative (though largely outdated) solution to the Alpine-versus-Randonnée gear problem. But first, a little sidebar: when it comes to safety and downhill performance, Alpine ski hardware is vastly superior to A/T gear.
This includes skis, boots, and especially bindings. If you are a performance hound, if you're a former racer, if you're the kind of skier who can tell when your boards have gotten a bad tune at the shop, you'll find the transition to Randonnée gear a seemingly endless series of compromises. Enter the Alpine Trekker, which lets you use your Alpine gear in the backcountry, by turning your Alpine rig into a free heel backcountry setup, no tools required. Snap the Alpine Trekker into your downhill bindings, snap your boots into the Trekker, and just like that you're skinning uphill.
But wait...the best is yet to come. Once you've topped out on that ridgeline, remove the Trekkers, and you're ready to descend on the very same gear you use in-bounds. You'll enjoy the same performance and safety advantage, the very same feel you know and love.
In high-risk situations, the extra security of Alpine gear can mean the difference between life and death. Some of the world's top extremists, in fact, use alpine gear for their most dangerous undertakings. Beyond such fringe applications, skiers face a significantly lower risk of injury in a fall on modern alpine bindings, with their sophisticated release mechanisms, compared to the relatively primitive release systems on today's A/T bindings.
With all these advantages, you'd think everyone would be using Alpine Trekkers. Obviously, that is not the case. The reason is weight and uphill performance. Compared to Randonnée gear, alpine skis, boots, and bindings are much heavier. The Trekkers add approximately 21 ounces per ski to your load, prompting some reviewers to liken using the Trekkers to an Inquisition.
For short tours (1000-2000 vertical feet), the Trekkers are perfectly fine. If your tour involves much more climbing, however, or a lengthy approach, Alpine gear plus Trekkers can indeed seem like torture. By placing the foot an inch or so above the binding, the Trekker puts the skier in a mechanically weaker position, which means each step takes more effort.
This raised position also compromises the effectiveness of the Trekker's optional ski crampon, which snaps into the binding adapter. One of the nastiest falls I've taken happened while ascending a steep, icy slope on BCA Trekkers plus crampons. Perched as I was above the bindings, I found it difficult to gauge my connection to the slope until it was too late, leading to an uncontrolled downhill slide toward a boulder field.
My final verdict, then, is that the Trekkers are quite effective for short tours, or other circumstances where you absolutely, positively want to be on your Alpine Rig. Trekkers allow you to dabble in the backcountry without purchasing a complete (and bank account-draining) Randonnée rig. For more advanced touring needs, however, the Trekker quickly becomes a liability.