Black Diamond Bbee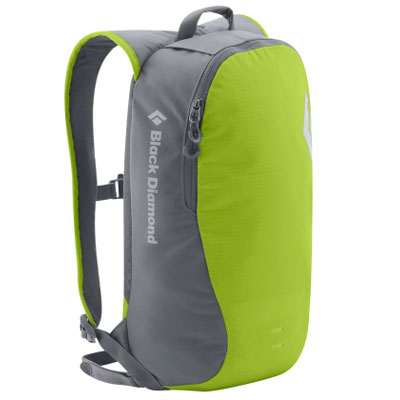 simple & light
mesh back panel
11L capacity
13 ounces
One of the lightest backpacks in Black Diamond's lineup, the 11-liter Bbee is a simple daypack designed for high-output speed ascents.
Black Diamond markets this as a summit pack that doubles as a stuff sack. You can also use it as a not-so-rugged haul bag. The Bbee's impressively-low 12.5 ounce weight (measured) is certainly one of the pack's most appealing assets. On your back, the Bbee is small and non-intrusive. A waist belt keeps the pack stable against your body while climbing or jogging.
Trail runners and cyclers may find the Bbee a strong choice thanks to the pack's breathable mesh back panel, which helps keeps you cool when you're running hot. Size-wise, the Bbee is small but not tiny, offering just enough room to get the essentials inside, but just shy of enough breadth to hold a basketball. The hydration-compatible Bbee's internal pocket configuration struck me as reasonable, though slightly awkward. An open, rather loose pouch divides the main compartment in two. There is also a small interior zip pocket. Missing is an exterior zip-pocket. No tool loops, either.
Call me crazy, but the original Bbee's shape bothered me. Not in terms of function, but form: the pack looked a little blob-like and frumpy—as if the designers had a little too much fabric to burn. The 2012 Bbee looks sharper, with a more tapered, svelt design. Think of the Bbee as a lighter, more trail-oriented version of the Bullet daypack—a fine choice.