Black Diamond Firstlight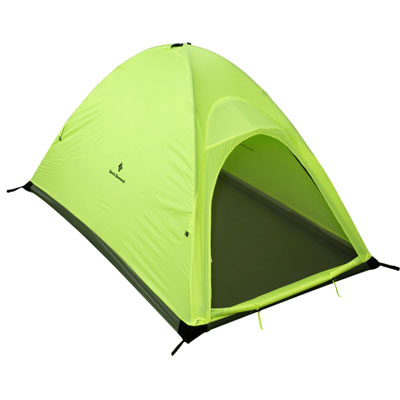 single-wall design
flirts w/four season use
not for sustained rain
2lbs 13oz
Black Diamond's Firstlight tent almost makes a bivy sack obsolete. This two-man, sub-three pound tent should keep you warm and dry in all but the wettest conditions.
The Firstlight features a single-wall design; there's no rain fly, which is partly why the tent is so light. In its revised (green) version, the Firstlight is now constructed of 'NanoShield' fabric instead of Epic. Reportedly, the change results in more consistent results during manufacture, but the same basic paradigm when it comes to water-resistance.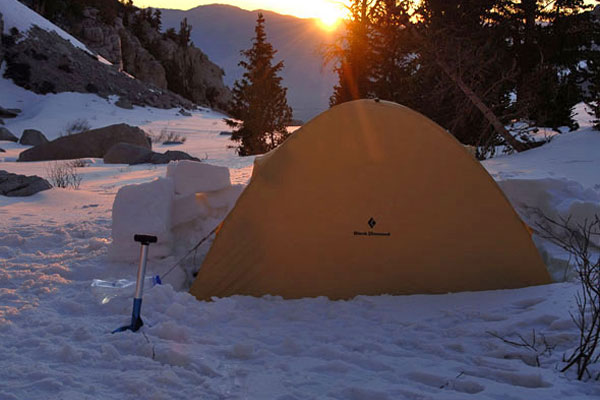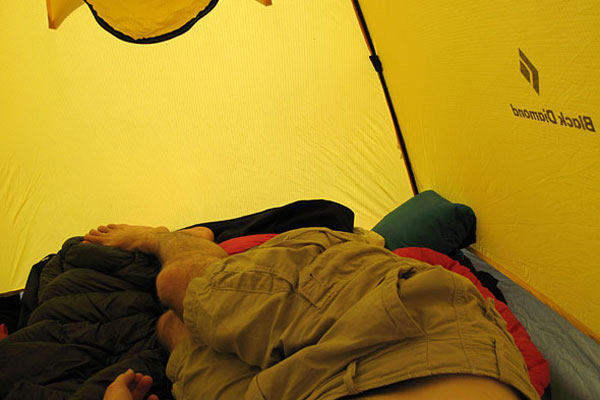 Exactly how waterproof NanoShield (or Epic) actually is remains open to debate. If you're heading into a rainforest, the Firstlight probably isn't for you.
The Firstlight should be perfectly fine for even a sustained thunderstorm downpour, however. Just don't ask it to keep you 100% dry if the rain keeps falling continuously day after day, or in climates with sustained high humidity.
Since I use the Firstlight mostly for single-night summit assaults in Winter and Spring, those concerns are moot. For these conditions, it's just about perfect.
While the Firstlight is officially a (smallish) two man tent, it is as a solo tent that it truly shines. The tent is easy to set up and (for one person) surprisingly roomy. Put a Firstlight in your pack, and you've got a comfortable, reliable 4-season shelter. I expect we'll see competitors pop up in the future with similar offerings, but right now, nothing remotely compares to the Firstlight in terms of size, weight, and price.
You just can't match the Firstlight's ultralight package with a traditional, body-and-fly design. Note that some people have expressed criticism regarding the Firstlight's breathability. Like Epic fabric, the NanoShield fabric is breathable, but if you completely seal up the tent, you will experience condensation issues, especially in below-freezing temperatures, and especially if there's more than one person in the tent.
The same can be said, however, for any tent which does not feature a generous helping of vents. Meanwhile, the Firstlight's lack of mesh paneling (other than the zippable vent and door mesh) means you can use the tent in blowing dust and snow without worrying about getting coated yourself. Over time, the Firstlight has become one of my favorites. The combination of low weight and high quality shelter really pays off. For a minimalist 2-man tent, or a nearly ideal solo shelter, this is it.