Big Agnes Fly Creek Platinum 1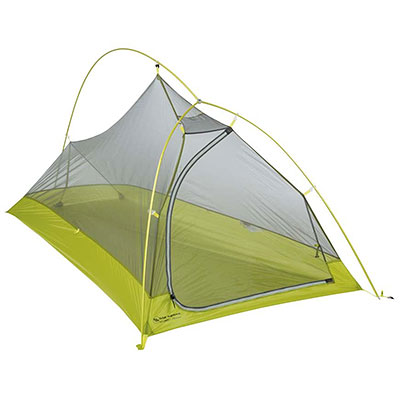 stake-intensive
durability suspect
insanely light
1lb 7.4oz (minimum)
Big Agnes built the first iteration of the Fly Creek tent to be light. And then they decided to make it lighter, so they created the Fly Creek Platinum.
Was that good enough? No. They decided to make the Fly Creek Platinum lighter still, releasing a special "2014" edition with a target spec weight of one pound, six ounces (tent+poles+fly). My scale says they came within about an ounce of that goal—1lb 7.4oz—officially making the Fly Creek Platinum 1, 2014 edition, insanely light.
This is a light tent. I feel it's important to stress that right out of the gate. You are buying the Fly Creek Platinum 2014 (or yellow-green, as I like to call it) because you not only cut down the handle of your toothbrush to save weight, you also pull out half the bristles. Heck, who am I kidding: you hike without a toothbrush. You dream of replacing your backpack with a plastic grocery bag...
Here's the thing: yes, in some of the more esoteric corners of the Internet, you can find lighter "tents" that are concocted by rugged individualists working in garage laboratories, but for all its insane lightness, the Fly Creek Platinum (2014 edition!) gives us a tent that looks and feels suspiciously like a regular, non-freaky mainstream tent.
Though it does encourage the use of a lot of stakes (or otherwise creative anchoring), the Fly Creek Platinum is free-standing, and its geometry allows for a surprisingly roomy feel which is enhanced by the tent's extraordinary all-mesh upper body. Used without fly, the Fly Creek feels a heck of a lot like sleeping directly under the stars.
Do you need a tent primarily for Spring Sierra bug protection? The Fly Creek approaches perfection. Thunderstorm insurance? I give it a more reserved check. You're going to want to be careful with your Fly Creek. Protect it from wind, sun, rocks. Protect it diligently, and make peace with the strong likelihood your relationship will be a short one regardless.
The Fly Creek Platinum's fabric is the thinest I've ever seen on a broad-market tent. It is reminiscent of (though not quite so alarming as) the Rocket Tent's crazy mylar. The fly is an ephemeral work of art. You'll worry about it. The poles are incredibly light. You'll worry about them, and the floor panel too, especially (as is likely) if you use the tent without a ground cloth.
You'll worry, yes, but you'll also love it. The Fly Creek, to me, embodies what we want from a solo tent. Make it functional, make it reasonably storm-worthy, but most importantly make it light! Toward that goal Big Agnes has given us their best effort, and the result is an ultralight triumph.
Consider the 2013 Fly Creek Platinum 1, with its handsome charcoal-and-blue colors, if you want slightly more durability (measured weight: one pound, eleven point two ounces). Consider MSR's excellent Hubba NX Solo if you want maximum durability (two pounds, eight ounces). But if you want a state-of-the-art ultralight solo shelter, this is it. Recommended.