Black Diamond Lighthouse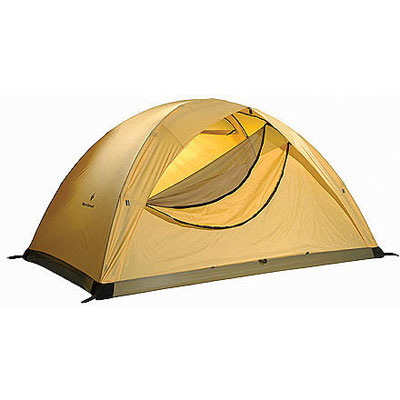 single-wall Epic™
four seasons?
room to spare
3lbs 3oz
Say Bill, I shout, shivering uncontrollably in the howling, high-altitude January windstorm. You got any extra room in that Lighthouse tent?
We are just below the summit of Mount Baldy. Night is falling. It's the dead of winter, and the temperature is a heck of a lot colder than either of us was expecting. The wind has gone rogue, driving a constant barrage of snow and ice horizontally across the mountain. I don't have a tent—just a bivy sack, which is looking awfully inadequate at the moment. But Bill's got a Black Diamond Lighthouse.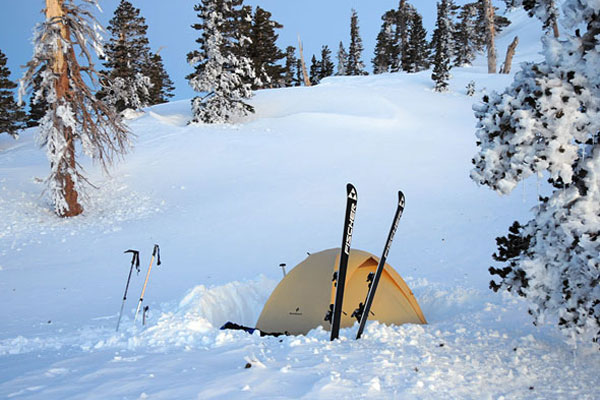 Bill's a big guy—over six feet tall, a former football player. But the surprisingly-roomy Lighthouse fits us both with room to spare, getting the both of us out of that cursed wind.
How much does it weigh? Not nearly enough to make me feel guilty for not helping Bill carry it.
The Lighthouse is essentially a larger version of Black Diamond's HiLight, though with a full-zip door. Both are ultralight single-wall tents. Despite being the bigger of the two, the Lighthouse remains quite light, with a tent-and-poles listed weight of three pounds, three ounces. In terms of interior volume, the Lighthouse compares nicely with MSR's spacious Hubba Hubba tent. The Lighthouse is three inches longer, an inch wider, and three inches taller—especially impressive when you consider the Lighthouse is a full pound lighter.
Much of what applies to the HiLight applies to the Lighthouse as well, and I'll recommend you read that review if you're interested in the Lighthouse so I don't have to repeat myself. The key similarities are the clever cross-pole awning design, and the fact that they are single-wall tents (there is no separate rain fly). The Lighthouse, now discontinued, is made of Epic fabric, rather than the newer Nanoshield found in the Hilight.
As discussed ad naseum, Epic and/or Nanoshield fabric is breathable and highly water-resistant—though not absolutely waterproof. In any context in which the tent fabric will have adequate time to dry fully (ie, between storms), Epic will probably do just fine. But beware endless, day-after-day rain or rotten-soggy humid climates. In either situation, a traditional double wall tent is the safer choice.
The Black Diamond Epic tents enjoy widespread use in winter despite their three-season status. One reason for this is they close up completely, preventing blowing snow or dust from getting in. Like the HiLight and OneShot, the Lighthouse is well-built, but perhaps not quite bombproof. Chose your camping locations with some thought, especially with regard to wind. Use windbreaks when available.
It is remarkable to think that two people can split a three pound tent comfortably. In the past, it was not uncommon for two man tents to weigh twice as much. I don't recommend the Lighthouse as an entry-level backpacking tent, but for more experienced hikers, the Lighthouse can seem like pure magic. Be mindful of the single-wall design's limitations, treat it with care, and you'll never want to carry a heavier tent-and-fly model again.