Black Diamond Neve Pro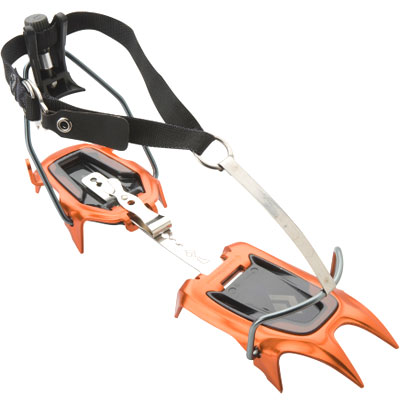 10-point trekking comfort
enhanced attachment security
toolless size adjust
1lb 4oz
Black Diamond's Neve Pro and Strap crampons carve a narrow niche between true ultralight aluminum designs and full-service steel.
You won't have any trouble finding aluminum crampons that are lighter than the Neve series. Indeed, at 20 ounces per pair, the Neve Pro is among the heavier 'lightweight' crampon on the market, and certainly nowhere near the lightest-of-the-light offerings from CAMP USA. What, you ask, do we get for all this extra weight?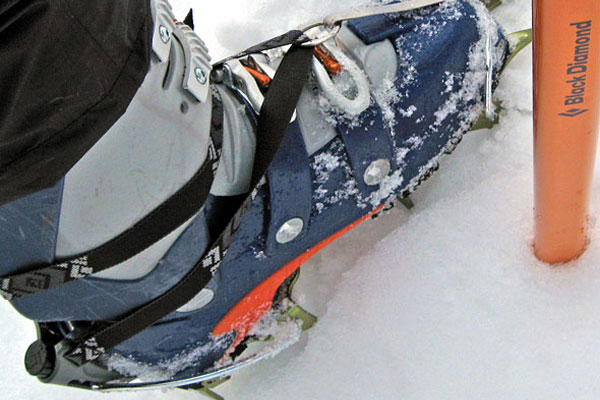 I would say the answer is durability and security—enhanced strength and enhanced attachments.
Black Diamond builds the Neve with a beefy attachment system: in the case of the Neve Pro, steel bail wires and a solid plastic binding with plenty of adjustability to get the fit right.
The Neve Pro also features a front attachment strap to make sure the crampon stays on your boot lug, where it belongs. As an added benefit, the front strap also helps keep your boot's instep buckles from opening/flipping up. The Neve is a ten-point aluminum crampon with what I'll subjectively call 'shorter' points. Both these features make the Neve suitable for hiking/trekking.
Fewer, shorter points tend to catch less, making for a more natural gait. In keeping with this theme, the Neve features a flexible, steel-spring center bar, adding toolless adjustibility, allowing you to effortlessly match the crampons to your boot size, and tweak as necessary in the field. As you'd expect, Black Diamond says the Neve is not intended for waterfall ice or rock—neither of which should be a problem if you're backcountry skiing.
The larger question is whether or not the Neve's extra weight makes sense if you're seeking an aluminum crampon. I get the feeling that building ultralight 'disposable' gear just doesn't fit with Black Diamond's company identity. That, more than anything else, may explain the design of the Neve. Heavier climbers or those needing extra durability may enjoy the extra heft of the Neve crampon—or they may simply choose to buy steel instead.