Black Diamond Raven Ultra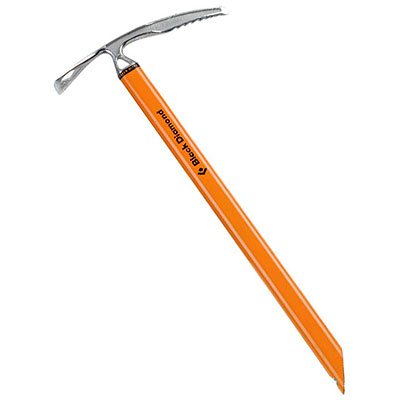 steel pick and spike
general mountaineering
50, 55, 60cm sizes
12.9 ounces
'Know Thyself' is a great motto when it comes to choosing between aluminum and steel ice axes. If you're going to be flirting with rock or ice (as opposed to snow), Black Diamond's lightweight Raven Ultra makes a strong case for steel.
The Raven Ultra is a B-rated axe with an investment-cast adze and sharply angled spike that will eat up anything the mountain can throw at you—perfect for general mountaineering applications. Compared to other light axes I've tried, the Raven Ultra's construction seems markedly stronger. In situations where your axe might be used as a belay, rappel, or rescue anchor, I would be far more confident tying off to the Raven than a superlight all-aluminum axe.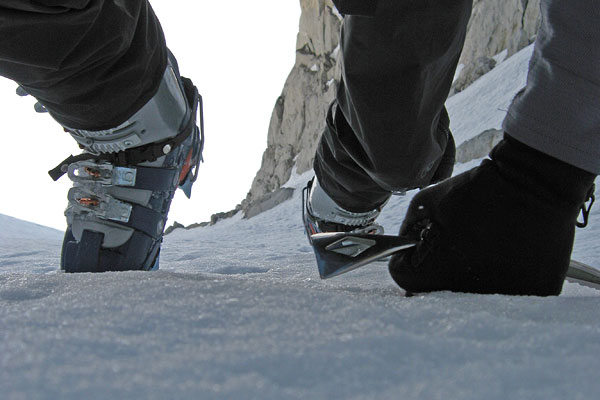 I'd also recommend the Ultra whenever glacier travel is involved.
For me, the big feature of the Raven Ultra is its very sharply angled steel spike—which is cleverly integrated into the aluminum shaft. The angle of the spike, plus its hardness, makes for effortless penetration even in hard snow.
If you like to use your axe in the piolet canne (stake or self-belay) position, as I do, you'll appreciate the spike immediately. On the other hand, this same feature makes the Ultra less effective as a walking axe: that angled steel spike tends to penetrate too deeply, such that the shaft won't support your weight. You'll likely prefer to use your ski or trekking poles for walking instead.
Despite the the Raven Ultra's modest weight (12.9 ounces in the 55 cm version), the adze has a noticable heft to it. You'll appreciate the weight if you're chopping steps, or just trying to swing the pick into ice. The tapered shape of the adze where it attaches to the axe's shaft is designed to fit more comforably into your hand. I found the ergonometric design does indeed fit better between the fingers. However, because it doesn't 'jam' against your fingers as much as a traditional design, the tapered shape leads to a slightly looser grip when you're holding the axe by the adze.
I don't often encounter ice in the Southern Sierra, so my tilt generally runs toward bringing the axes in the backcountry, if at all. It was most fortuitous, then, that I had a Raven Ultra in my grip when I found myself unexpectedly navigating a steep section of waterfall ice in the Tioga area this season. The experience was enough to turn me into a believer.
If you do find yourself perched on true ice, steel is an absolute must. Rather than bringing an all-aluminum axe (and hoping you won't find ice on your route), you may find the Raven's steel points are well worth the extra 2-3 ounces. With its combination of secure steel points and a sleek, surprisingly light design, the Raven Ultra easily earns a place among my trusted climbing gear.