Black Diamond RPM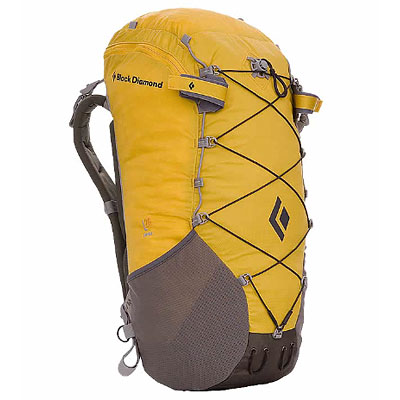 frameless
a true hybrid
capacity sweet spot
1 lb 6.3 oz (large)
Black Diamond's 25-liter RPM backpack lies somewhere between a traditional small day pack and a larger technical climbing pack.
This rather unusual design can make it seem as though the RPM is neither here nor there, but in day-to-day use the pack acquits itself nicely. 'Hybridization' is the buzzword here, thanks to a diverse set of features borrowed from packs both large and small. The RPM's weight is a modest 1 pound, six ounces (measured) in the medium/large size.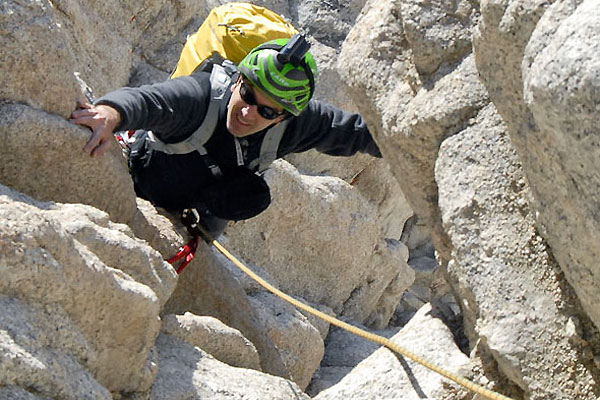 The RPM features a rather substantial foam back panel, very reminiscent of Black Diamond's larger, technical packs, but with cleverly hidden perforations that breathe without trapping snow or dirt. This foam panel acts like a framesheet, giving the RPM a bit of structure, especially when fully loaded, but don't be fooled: this is a frameless pack.
The majority of the load is going to sit on your shoulders. The RPM has a removable waist belt that many people will be tempted to never bother using. The placement of the waist belt is rather high, which limits its effectiveness for load-bearing, but enhances its ability to reduce pack-swing. Trail runners and climbers especially will like having the option to secure the body of the pack against the torso to keep it from bouncing around—or to clip on a camera case.
For a pack of this size, the RPM is surprisingly loaded with features, including tool loops, an exterior cinch cord, and mesh pockets. Conspicuously absent, in my opinion, is some sort of ski-carry functionality, though creative skiers will find the tool loop and x-cord system can be used for an improvised diagonal-carry if needed. That one would even consider ski carry a viable feature speaks to the pack's ambitious versatility. Of course, you will be just as happy using it as a small day pack for bike rides to the beach.
The RPM is a top-loader with a zip-around lid that opens into the main body of the pack—sort of like (sorry!) a flip-open trash can lid. This isn't exactly a revolutionary design, but it is unusual, and it takes some getting used to. With practice, it's a clever and quick (if atypical) way to access the pack's interior.
The usual gang of secondary features are all here: hydration pocket and opening, two zip pockets in the lid to stash small gear, plus an extra interior pouch for small odds and ends. On balance you may find the RPM a little gadgety at times, but the capacity absolutely hits the sweet spot—not too big, not too small—and the added features most always prove welcome.