Black Diamond Winter Bivy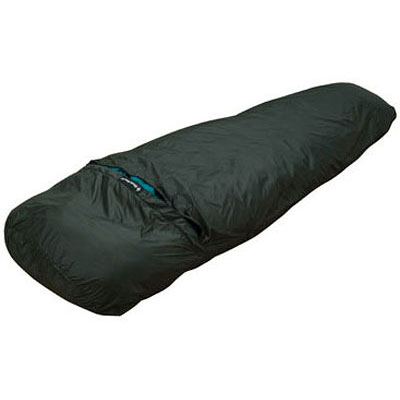 water-resistant epic™ fabric
zip closure
minimalist's shelter
9.8 ounces
Black Diamond's Winter Bivy is an ultralight water-resistant bivy sack designed primarily for cold-weather applications but versatile enough—perhaps—to serve in a variety of conditions.
Keep it in your pack as a backup emergency shelter. Or use it as a sleeping-bag cover in extra-foul weather to help keep your down bag dry inside your tent (and add a few extra degrees of warmth). Or, if you're really in the mood for minimalism, leave the tent at home, and use the Winter Bivy to sleep under the stars. Heck, you can even use the Winter Bivy instead of a sleeping bag.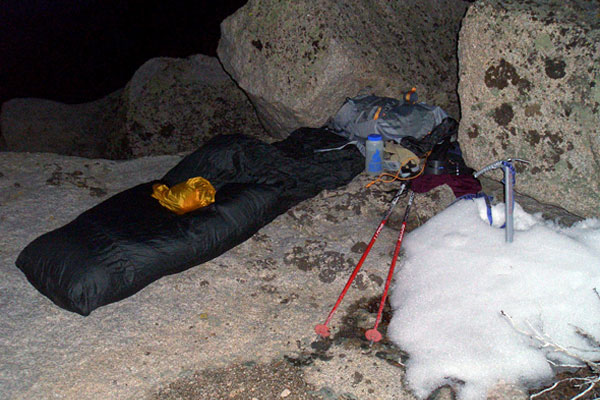 Trading the comforts of a good tent (and/or sleeping bag) for a mere bivy sack isn't for everyone.
That said, your tent may not look quite so necessary when you compare the tiny size and considerable weight savings of the ultralight Winter Bivy sack.
So how safe and effective a shelter is the Black Diamond Winter Bivy? The Winter Bivy is made from that paragon of ambiguity, Epic™ fabric. Opinions vary regarding Epic and its waterproofness (or lack thereof). Personally, I'm not willing to try to ride out a downpour far from civilization in the Winter Bivy, so I can't offer any direct testimonials.
I do think it's reasonable to expect the Epic fabric would keep you dry through a brief rain shower, especially if the humidity is low. But I'd hesitate to depend on any Epic shelter if there is a significant rain threat, paired with a significant risk of hypothermia if you and/or your gear gets wet. In any case, if you plan on riding out heavy rain in a bivy sack—even a gore-tex sack—you're making a bold statement about your tolerance for suffering.
Obviously, Black Diamond calls this a 'winter' bivy sack for a reason—presumably because you won't be encountering much rain in the winter months. Expect a slight boost to your sleeping bag's warmth rating when using the Winter Bivy, especially if it's not windy. On the subject of wind, I rode out a fierce windstorm on Mount Shasta in the Black Diamond Winter Bivy. Because the Winter Bivy uses a zipper (across the chest), rather than a drawstring closure, the bivy tends to flap in heavy wind—enough to compromise sleep.
You'll want to choose your campsite carefully to find protection from wind, if the Winter Bivy is all you've got for shelter. That said, I find the weight reduction of camping solely in a bivy sack is often worth the compromises. You'll need to cultivate experience and judgment to make that decision—and you may well conclude, for your needs, that a Gore-Tex bivy is a must.
Minimalists will appreciate the Winter Bivy's exceptionally light weight, packability, breathability, and reasonable water resistance. Yes, there are certainly more waterproof bivys available—but Black Diamond has put together a nice compromise here. You'll never look at your tent the same again.