Blizzard Magnum 8.0 Ti (2014)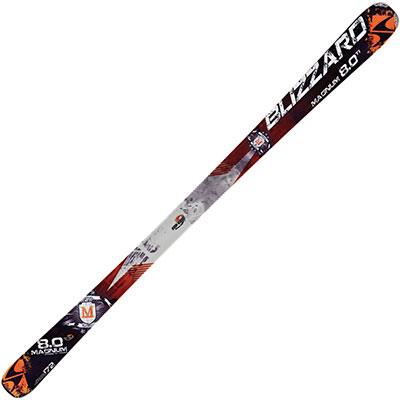 classic GS feel
confidence-inspiring
high fun factor
122-80-107mm R17 (172cm)
Blizzard's Magnum 8.0 Ti has been a darling of the ski media, consistently scoring near the top of the performance-carver class in published reviews.
The Magnum 8.0 Ti is somewhat oddly categorized as part of Blizzard's 'sport' range, but it clearly delivers performance approaching that of an elite-level ski—especially with regard to GS-radius turns. At the same time, the Magnum is undeniably friendly and easy to ski, thanks no doubt to its use of Blizzard's 'flip core' rocker.
You don't expect to find flip core geometry in a pure carving ski, but there it is, and it works beautifully. Like Blizzard's outstanding Free Mountain skis, the Magnum's wood core is flipped—installed upside down—matching the core's natural bias to the arc of the turn, optimizing pressure distribution.
It may sound a little funny, but it works. Flip core skis give us all the perks of rocker without the often-crippling liabilities that plagued earlier iterations of reverse-camber skis. In the Magnum, this translates into a ski that combines the sweet, effortless feel of a rockered plank with the take-no-prisoners hard-snow performance of an high-level carver.
On the snow, that fusion absolutely worked for me. The Magnum 8.0 Ti delivers that classic world cup GS feel that former racers covet. The ski is at its best on smooth groomed snow, making long-radius turns, rocketing down the hill at the outer bounds of your speed limit. I found it confidence inspiring, never quirky, and abundantly fun to ride.
If there's a downside here it is versatility. The Magnum 8.0 is a frontside ski, and a GS-tilted carver at that. You're not getting nearly the All Mountain range of the Bonafide, nor are you getting the blazing short-radius performance of, say, Dynastar's Course Ti. Let's just call the Magnum 8.0 Ti a giant slalom specialist—but a very good one at that.
That said, I often find myself a bit daunted by the prospect of jumping on my Dynastar Course Ti's—I have to be at the top of my game to ride those skis, and even then, they're demanding. The Magnum 8.0 is entirely different in character: they're comforting and easy-going, while still plenty thrilling. For a fun day cruising groomers at high speed, I'd say the Magnum 8.0 Ti is just about perfect.