Nordica Fire Arrow 84 EDT (2014)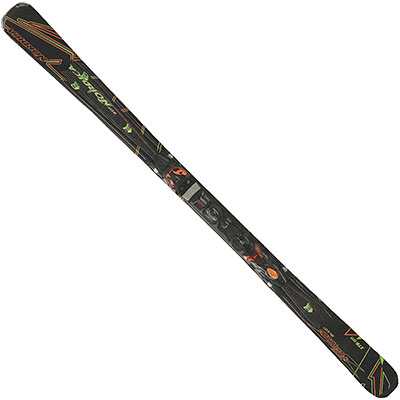 a high-speed screamer
modern, rockered carver
long radius specialist
127-84-112.5mm R18 (176cm)
The Fire Arrow tradition continues with Nordica's flagship Fire Arrow 84 EDT EVO, an absolute screamer of a high-level carving ski.
Compared to previous Fire Arrow models, the 2013-2014 EDT reduces sidecut, adds tip and arguably a bite of tail rocker, and delivers a ride that is unquestionably drawn directly from the race room. I think we have to consider the Fire Arrow EDT (and a handful of new planks like it) as basically a new species of ski. What we are seeing here is the successful implementation of rocker into what was previously the cambered-only domain of elite-level carving and racing skis.
To this point, that fusion has not been an unqualified success. Adding rocker to race stock has certainly given us skis that are easier to turn, opening up the category to skiers who don't have racing pedigrees—but at the cost of destroying the integrity (and the fun!) of a fully-cambered ride.
The Fire Arrow 84 EDT is perhaps the first of this new breed to preserve the thrills of the world cup carver without demanding elite-level technique. The ski is among the most technologically sophisticated on the market, including advances designed to re-tune the carving angle at the tip, and enhance torsional rigidity and edge grip. All together, the effect is formidable.
On-snow, the EDT is capable of taking your breath away with its claws-to-the-snow grip, and its rocket-ride-release at the end of each turn. Like nearly all the skis in this rockered carver class, the Fire Arrow EDT is very demanding when it comes to turn shapes and skiing styles. As I noted in my Winter Park comments, the ski likes to be the one in control.
The more you try to impose your own will upon the ski, or, worse, try to work the ski in a traditional tip-to-tail manner, the less happy you will be. That said, when you do relent and let the ski do the work, the result is stunning. You will quickly find yourself exploring the outer limits of your speed tolerance on a ski that seems capable of running Super-G courses.
Yes, versatility is a weakness. And for that reason (plus the fact that—alas!—I find I'm slowing down as I get older), I'm not sure I would own a pair for myself. But I will without hesitation place the Fire Arrow EDT at the head of its class. The elite rockered carver is finally starting to realize its potential—do check it out when you have a chance.