Camp USA X3 600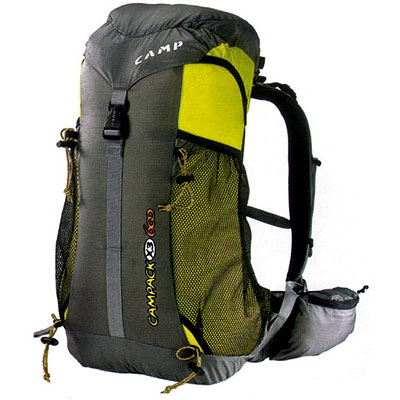 trail running/speed climbing
internal frame rod
diagonal ski carry
1 lb 5.6 oz
With the X3 600, CAMP USA has created what must be one of the lightest framed daypacks ever built. Weighing a meager one pound, five ounces, the X3 is easily a pound lighter than its nearest competitor. In fact, the X3 weighs less than most frameless packs.
Had CAMP been able to deliver a tight, load-carrying workhorse at this weight, the X3 would indeed be a miracle. But that, alas, is not the case. The X3 bears the ignoble distinction of having a frame but acting as if it didn't. In terms of construction, the X3 utilizes exceptionally light fabrics and foams to keep the weight down (similar, in overall feel, to the GoLite pack lineup).
Additionally, CAMP employs several interesting features to enhance breathability. Racers will like the clever shoulder strap design: a 'Swiss-Cheese' foam padding designed to allow air to flow through. This same cut out or drilled foam is also found on the backpanel (against the spine), along with a more traditional open-cell, mesh-wrapped foam.
With all this attention to airflow, you'd think the X3 would be a superior performer in warm weather. However, the pack's overall shape is somewhat pear-like, with a tendency to sag against your body. As a result, the pack puts a lot of surface area, relatively speaking, against your skin. Also, key locations—such as portions of the waist belt—are covered with a non-breathable nylon.
This combination of shape, softness, and fabric makes the X3 600 at best an average performer for high-output activities—which is a surprise. Less surprising is the relatively poor performance of the pack's suspension. Given how low the overall weight is, one could hardly expect to find a stiff, load-ready frame. Nonetheless, I was disappointed.
The pack features a single stay which is overly flexible to begin with, and which is not paired with a supporting frame sheet. The pack therefore lacks a direct connection to transfer force from the shoulder straps to the frame rod. In other words, if you pile weight into the X3, it goes right to your shoulders.
As an alternate carry strategy, you can cinch the waist belt and allow the load to sag downward, hanging from your waist like an oversized fanny pack (a familiar sight to those who put big loads in frameless day packs). In any case, the pack feels 'floppy' against the body—and this is especially evident if you do any running or jogging while wearing it.
To my eye, the X3 looks like a prototype. I expect CAMP will be making changes to its pack line, especially with regard to structural integrity and load carrying. If CAMP USA can keep the X3's weight down and improve its performance, this will indeed be a significant development for weight-conscious mountaineers. Until then, the X3 is best considered a work in progress.