CAMP XLC 470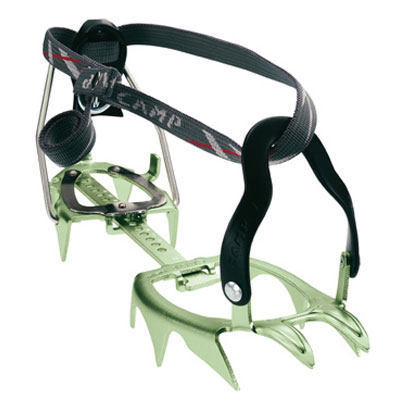 12-point performance
semi-automatic binding
not for technical ice
17.4oz/pair
I say Camp USA has taken over the ultralight crampon market with its XLC crampons. If you need a light aluminum crampon, chances are one of the Camp models will turn out to be a perfect fit.
Camp's XLC 470 weighs in at a very-reasonable 17.4 ounces per pair (measured). The 470 is designed to work with new-matic compatible mountaineering boots, which feature a semi-rigid sole and heel lug. Note that the 470 is not a universal (full-strap) crampon: for that need, you'll want to either switch to the Camp XLC 490 or Stubai's excellent Ultralight Universal crampon.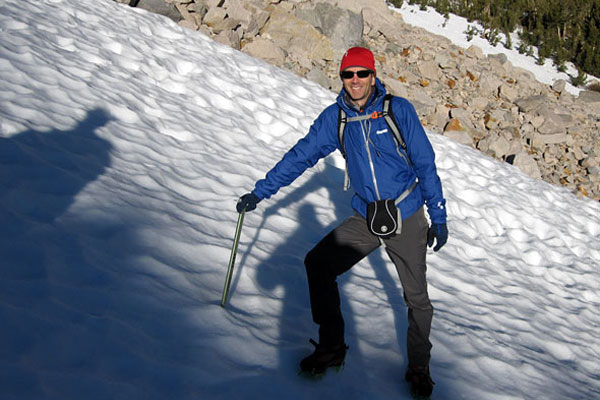 Compared to Camp's fully automatic XLC 390 crampon, the 470 does add nearly a hundred grams of weight. This is partly a consequence of the binding difference. The toe of the 470, as should be evident in the photo, employs a strap-on design, which by necessity adds extra material to the structure. Also adding weight is a generalized increase in beefiness.
Presumably with a mountaineering boot as opposed to a ski boot, there will be more scrambling on the agenda (that is, on both snow and rock). The XLC 470 is built to withstand this added stress. My experience with the lighter 390 model has eased all my fears about durability. I don't hesitate to recommend these for a wide range of contexts—everything but ice or mixed climbing. Just keep in mind that the 470 is made of aluminum, and not steel. Heavier climbers will want to be careful, as it is possible to bend the crampon spikes if you are walking on hard surfaces.
Despite being in the ultralight category, all of Camp's XLC crampons are fully featured and well-engineered. Wear indicators on the crampon teeth tell you when it's time to retire your crampons for a new pair. Build quality is refined and solid. The 470's tool-less leaf-spring adjustment system is a welcome addition, allowing you to easily reset the crampon's length to match your boots.
Thanks to the new-matic binding, I say this is the must-have crampon for Sierra Spring mountaineering when you know you won't be climbing technical ice. Be it Army Pass or Mount Whitney's Mountaineer's Route, the 470 is light in your pack when you don't need it, and a perfect 12-points beneath your boots when you do.