DPS Wailer 99 (2014)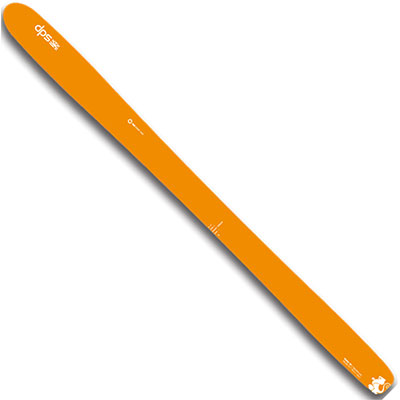 a tough-snow specialist
surprisingly natural feel
nervous at speed
127-99-111mm R16-19
A key task of an All-Mountain ski is dealing with challenging conditions. By that standard, DPS's Wailer 99 is a big success, even a class leader.
This is the ski you want to be riding on those days when the mountain seems committed to making you look bad. The Wailer is a tough snow specialist, employing experimental, non-traditional geometry (let's call it "bent French Fry" tip and tail rocker) that makes the ski remarkably easy to turn in nearly any kind of snow.
But don't dismiss the Wailer as a one-trick pony: despite its progressive appearance, the ski has a surprisingly traditional feel. In effect, the Wailer's extreme tip and tail rocker makes the ski feel like an ordinary, normally-cambered plank of very short length—like jumping on a junior slalom ski.
On this hill, this makes the Wailer supremely easy to pivot and turn. Like the best skis in its class, the Wailer tends to spear through powder and chop rather than catch or deflect, making it ideal for end-of-the-day garbage time on powder days. On hardpack, the ski maintains a pleasingly natural feel, though the ride does get nervous as speed increases.
The Wailer didn't strike me as particularly comfortable in moguls, nor as lively overall, so on the whole I'm going to rate it a touch less versatile than Dynastar's similarly-oriented Cham HM 97. Of the two, however, the Wailer may actually have the more traditional feel, making it highly appealing for those who want to enjoy the perks but not the quirks of modern ski design.
For touring purposes, the Wailer's ability to chew through difficult snow makes it a strong backcountry choice. Switch to the lighter Wailer 99 Carbon version (which I believe comes in at less than eight pounds per pair), and you've got a formidable touring machine that will still keep you happy in-bounds. All in all, I'd say the experiment works. It's a fine All Mountain ski.