Fritschi Explore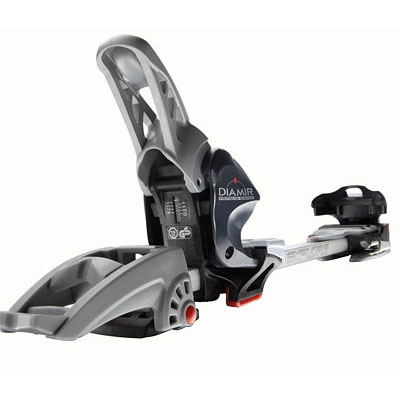 simple
reliable
solid A/T performance
4lbs 5.5oz/pair (w/brakes)
The Fritschi Explore/Express is an evolved (and heavier) version of the original Fritschi Diamir Titanal binding featuring a step-in release and retention system, with a free heel mode and climbing elevator.
Compared to the current top-of-the-line Fritschi, the Freeride Pro, the now-discontinued Explore/Express bindings are slightly lighter and slightly less-reinforced binding. Before Fritschi and the Diamir Titanal binding came along, step-in Randonee ski bindings were generally in the dark ages—awkward, unreliable, and dubiously engineered.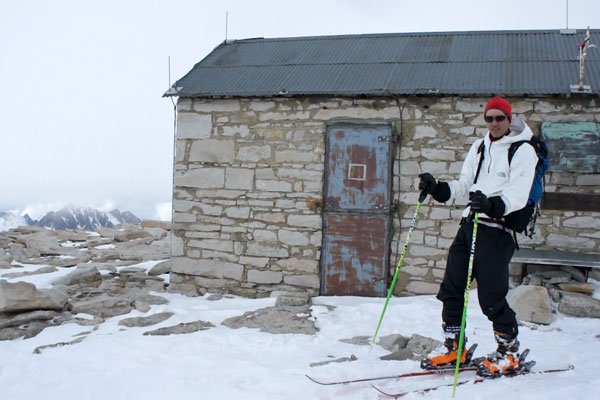 Fritschi was (I believe) the first to design a true step-in binding with DIN-releaseable toe and heelpieces and excellent free-heel climbing ability—the perfect marriage, seemingly, of Alpine and Nordic technology. Of course, marriages are never perfect, and the problems and issues involved in ski bindings exactly mirror what you encounter with Randonee versus alpine boots.
Randonee bindings weigh less but offer less downhill performance. In particular, you'll notice an unwanted slop or play at the toe which can allow your boot to oscillate at high speeds. This problem is endemic to all Randonnée bindings (excluding the quirky Dynafit system), and Fritschi has addressed the issue, to some extent, with the slightly-heavier and beefier Freeride model, but it's still a long way from the performance of the gold standard: an alpine racing binding.
The larger concern, if you tend to fall a lot, is safety. Today's Randonnée bindings can't match the release/retention performance of modern alpine bindings. For this reason, Randonnée bindings remain a riskier choice for in-bounds skiing. If you plan on using these bindings for a 'one rig' solution in both the backcountry and in-bounds, be advised that no Randonnée binding is a true replacement for the safety of a modern Alpine binding, regardless of what that salesman tells you.
In-bounds safety concerns tend to fade, however, when you're concerned with backcountry climbing performance. The Fritschi is a fine climber, easily shifting from downhill to freeheel modes on the fly, and featuring an aggressive multi-level heel elevator that makes skinning up a snap. The position of the front pivot is less than ideal for optimum Nordic efficiency (see Naxo, Dynafit), but still quite acceptible for a binding in this class.
You can also purchase the optional Fritschi Ski Crampons, which clip onto the center strut for added security on hard snow. These bindings have been around long enough now to have gone through several generations of problem fixes and evolution, and as a result the Fritschi's design is highly refined. We just don't hear many stories of these breaking in the wilds, or otherwise causing grief.
If you want the bottom line on the Fritschi Diamir series, it's that the binding's ease of use, effectiveness, and reliability have made it the overwhelming favorite in the backcountry, meeting the needs of the widest range of skiers. Unless you've got a specific reason to buy something else, this is your best starting point—no debate necessary.