Gregory Targhee 26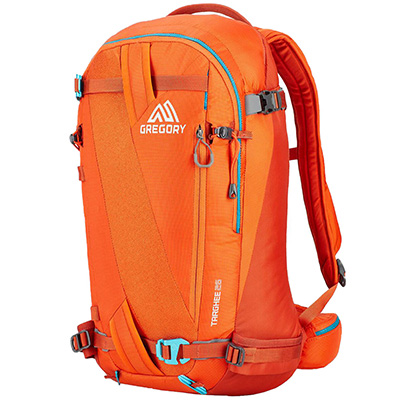 winter-specific
expansive feature set
enhanced durability
2lbs 13oz (26l)
Gregory's Targhee snow packs have been updated for the 2019-2020 season, making the lineup lighter and stronger.
These are winter-specific packs, designed and built for snowsports enthusiasts and snow professionals (inbounds and out). Gregory sent me the Targhee 26 to review, which is the smallest in the series. The Targhee is also available in 32 and 45-liter models.
All three packs offer an expansive, skiing and snowboarding-oriented feature set. If you're used to the more spartan aesthetics of technical climbing and Alpine packs, the Targhee series may not quite match your sensibilities. But if you want a feature-rich, dedicated snowsports pack, the Targhee is certainly worth a look.
Winter-Specific Features
Have you seen an insulated sleeve integrated into your pack strap to keep your hydration bladder tube from freezing over? The Targhee's got it, as well as an all-internal routing path. Unzip the pack's snow pouch, and you'll find a full complement of sleeves to hold your snow tools.
There are multiple chambers, each with its own specific purpose (ie, clothing, snow and avalanche tools, hydration), and each accessed somewhat idiosyncratically compared to traditional top-loading design. It does take time to adapt to how you open and close the pack to get at what you're looking for.
I love the locking cams on the side compression straps, which will once and for all eliminate your skis gradually wiggling loose and bonking you as you hike and climb in A-frame mode.
You may think you know everything there is to know about backpacks, but the Targhee does come with a higher-than-usual learning curve. While Gregory does not include an instruction manual with the pack, they have put together a short YouTube video that will help you learn how everything works.
Design & Carry
Obviously, in addition to the pack's rich internal feature set, you get an abundance of built-in winter-carry options for skis, snowboards, helmets, and even snowshoes. Be aware, however, that for a pack in this size range, the Targhee's body is notably deep. By that I mean as you fill it, it accordions backward away from your body.
The Targhee has three vertical sections layered along its z-axis, and this does push the pack's center of gravity backward.
I noticed this immediately when I put skis on the pack in A-frame mode. The Targhee does not carry skis particularly close to your body, making it feel a little unbalanced. If you typically strap your skis or board in diagonal-carry mode, this won't make much difference.
But the placement of the side compression straps—they only cinch the middle vertical section—does limit your ability to compress your loads, with skis or without, to keep weight close to your body.
Having said that, the Targhee otherwise offers a quite comfortable carry thanks to its wide shoulder straps and hip belt, and its abundant padding. While the suspension is softish (there is a flexible hoop stay built along the backpanel's edge), overall the pack does a nice job managing modest (let's say up to 20 pounds or so) loads.
Durability & Build Quality
Durability was clearly on the minds of Gregory's designers when they put the Targhee together. I don't think I've seen a pack with so much reinforcement and extra fabric layers. Do you worry about your ski edges tearing your pack's sidewalls? That's not going to happen here.
Whatever gives out, eventually, in the Targhee (assuming it ever does), it's not going to be caused by ordinary wear and tear.
In terms of build quality, we expect top-drawer construction from a brand like Gregory, and that's exactly what we get. The Targhee is a very solid pack. Such bomb-proof durability is not however without cost: the Targhee 26 weights a sturdy two pounds thirteen ounces on my scale—not heavy, per se, but certainly not light, either.
Other Packs to Consider
Other packs in this class include Dakine's popular Poacher 22, and Black Diamond's Dawn Patrol 25. Black Diamond's Speed 22 remains a staple in my current gear rotation and is a fine example of an opposite, minimalist design.
Final Thoughts
As it so happens, my discontinued Speed 30 pack finally gave up the ghost last season, so the Targhee 26 is currently my only mid-size framed daypack. I figure I'll be putting in some time with it this year, so please check back for updates as I learn more about it.
Climbers and skiers who tilt toward stripped, minimalist designs will find the Targhee overbuilt. At this weight class, the pack underperforms in load handling, with a softer-than-expected frame and a slightly aft-balanced feel.
For now, I say this is a pack that will best appeal to strong and fit seasonal skiers and snowboarders, and snow professionals. If you want a winter pack specifically designed to carry each and every part of your kit, Gregory clearly built the Targhee with you in mind. You'll enjoy all the pack's bells and whistles, and you can expect durability to be excellent.