Grivel Air Tech Light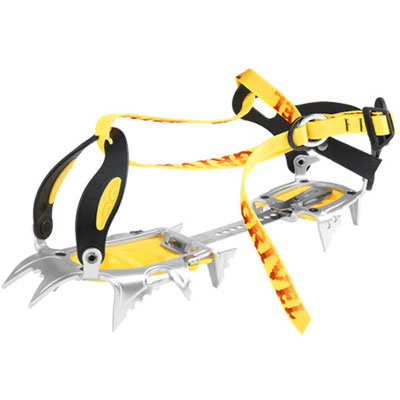 One of the lightest crampons
stiff, slick straps an issue
sharp but short teeth
16.79 ounces
Grivel's Air Tech Light, a 12-point strap-on crampon which features a removable anti-bot system, was one of the very first ultralight aluminum crampons.
While not suitable for technical ice or mixed routes, aluminum crampons have proven their worth for just about everything else. The Air Tech Light remains a solid choice in the universal (all-strap) category, though newer ultralight offerings from CAMP USA have eclipsed the Air Tech's status as lightest-of-the-light (if barely).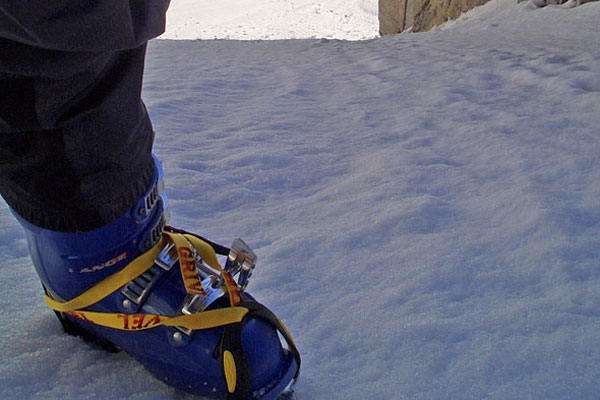 Compared to most other brands of aluminum crampons, the Grivel Air Tech Light has noticeably shorter teeth, as well as weight-saving cutouts.
Grivel has drilled holes here and there to shed weight at every possible opportunity.
Despite their shorter stature, the Air Tech's points are aggressive and sharp. You'll definitely want to use the anti-bot in sticky conditions, as snow balling is a bigger factor with short teeth. On the Hill, I found the Grivel's shorter teeth to be a little less effective for French Technique (flat-footing and/or traversing). The alignment of the points favors a head-on approach.
The Air Tech Light comes in two versions: New-Matic (semi-auto) and New Classic (universal). Both use a hard and slick plastic binding strap for the toe. In Classic version, that strap slid around a bit too much for comfort on my hard plastic ski boots. Probably I should have been on the New-Matic version. I would also not recommend these for snowboarders, or hikers in soft boots.
That said, the Air Tech Light is very popular in both strap and semi-automatic versions. And, on hard snow, the Grivel's aggressive front points make the Air Tech Light a sturdy, reliable climber—and a durable one as well. Now that lighter options exist, these aren't my first choice, but they remain a worthy ultralight contender.