Grivel Nepal Light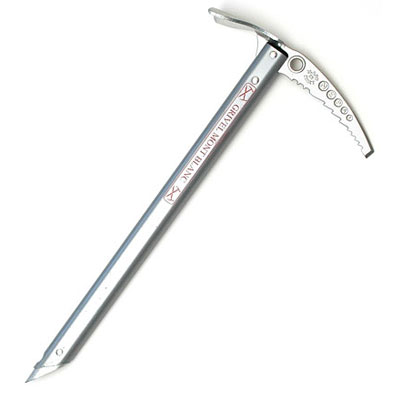 EN B-rated
reinforced aluminum spike
thicker adze limits penetration
9.6 ounces
Grivel's Nepal Light is one of the new all-aluminum general mountaineering ice axes, weighing in at a paltry nine ounces (for a 48cm axe).
I decided to get one of these largely as an experiment; I'll admit I was more than a little skeptical that an axe could be trustworthy without at least some steel or titanium in it. The big reason to get this axe, of course, is weight savings. When every fraction of an ounce counts, the Grivel Nepal Light is an awfully attractive option.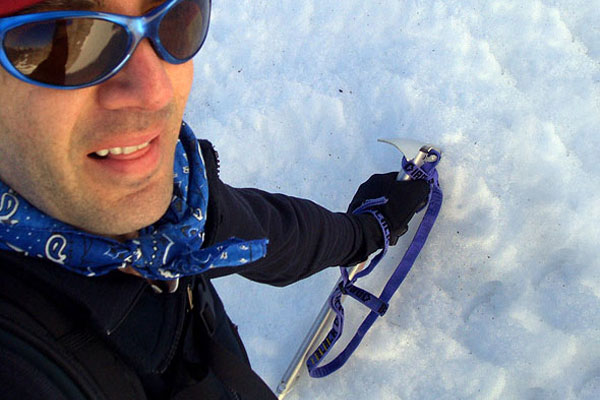 The design is clean and simple. Since the adze is constructed entirely of aluminum, it is thicker than usual, which makes the axe less effective when it comes to penetrating hard ice.
Really, if you plan on encountering ice—or much rock, for that matter—this isn't your axe.
The Nepal Light is ideally suited either for those occasions where you don't think you'll need an axe, but want to bring one along as insurance. Or, where you know you'll be climbing frozen spring corn, and need an axe but don't need steel points to penetrate ice. For either of these applications, the Nepal Light fits the job perfectly.
Inevitably, long-term durability is suspect with an all-aluminum axe. Reports occasionally circulate of axes destroyed by no more than dropping them on a rock. I've made a special point to be abusive toward my poor Nepal Light, giving no thought to where I put it or drop it. My three-year-old Nepal hasn't yet snapped in half, but that doesn't mean it can't happen.
Be smart about your axe choice: if you're headed into the unknown, take something with a little more heft to it. On the other hand, if you know an all-aluminum axe will do, the Grivel Nepal Light is a reasonable (and very light!) choice.