La Sportiva Electron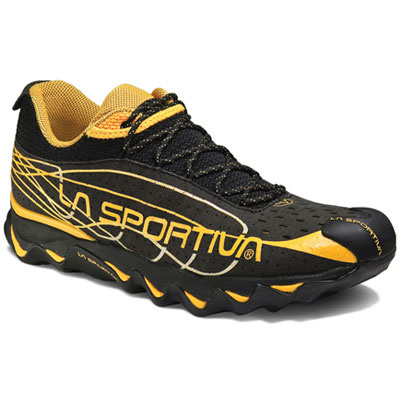 articulating 'Bio Stride' tongue
quite stiff profile
distinctive upright stance/feel
1lbs 9oz/pair (US 10.0)
La Sportiva's snazzy trail-running trainer, the Electron, has become one of my footwear favorites—though perhaps not exactly in the way Sportiva intended.
The Electron offers an intriguing blend of lightness and support. It is certainly not the lightest of the light, but at one pound, nine ounces per pair (men's 10.0, measured), it is quite light given the considerable level of support it offers. This is not a minimalist trainer that mimics the feel of barefoot running. Rather, it is cushioned and stable, with a thick, sticky, and rugged sole that encourages off-trail explorations.
The sole uses La Sportiva's new 'MorphoDynamic' technology. As the name implies, the sole adapts to the running surface, absorbing trail features for a smoother, more comfortable ride. Inside the rubber sole is a soft PU foam core, keeping the shoe light and close to the ground. A firmer EVA layer above protects and supports the foot. Together, these elements give the Electron a very appealing feel: solid and nimble.
My first impression walking around in the Electron was that it offered enough support for backpacking, making it a tempting choice as a super-light, load-capable hiker. That said, if there is a weakness to the Electron's design, it is the softness of the mesh upper, which makes the shoe wonderfully light and airy, but does not offer enough structure (at least in my opinion) for prolonged downhill hiking comfort.
Given that this is a running shoe and not a hiker, dedicated trail runners are unlikely to consider that a significant liability. If, however, you tend to use running shoes as hiking shoes, as I do, you may wish to limit the Electron to flatter ground. In any case, the Electron's sole just begs to be used on hardcore broken talus slopes, so I expect MorphoDynamic construction will soon dominate La Sportiva's hiking line.
As for the Electron, it has become one of my favorite walking-around-town shoes. It is comfortable on concrete, supportive, and eye-catching. I've found myself deliberately trying to keep them clean and pretty so I can wear them instead of street shoes. Making fashionable streetwear may not exactly be what La Sportiva intended when they designed the Electron, but if the shoe fits...
note: the Electron seems to size a half-size short; I'm normally a 9.5, but for me a 10.0 was a perfect (close) fit.