La Sportiva Ultra Raptor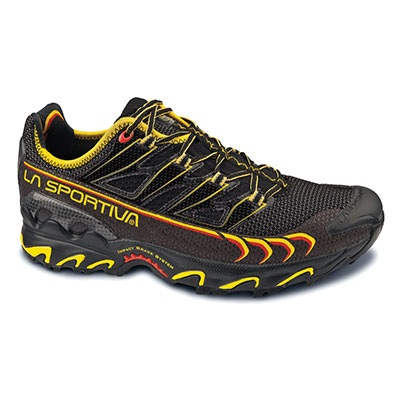 mid-like stability
extended use comfort
a modern 'ultra' shoe
1lb 10z/pair
September 4, 2014
The only thing wrong with La Sportiva's Ultra Raptor is that it's not a mid. For ultra-class hikers and runners, this is an outstanding all-day shoe.
The Raptor is reasonably light (I'm measuring my US 10.0 pair at one pound, ten ounces, post-use), eminently stable, and confidence-inspiring in that most critical of metrics—extended use comfort. La Sportiva specs this as a medium/wide fit. I notice a generous toe box, particularly compared to a typical running shoe, and a midfoot that locks down nicely for downhill work.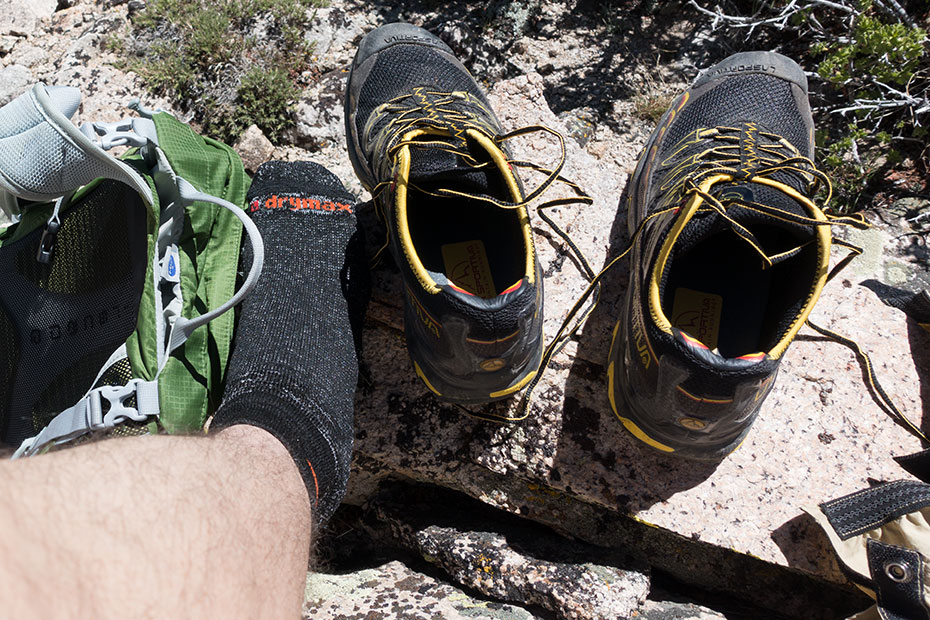 The shoe seems ideal for hikers who, for whatever reason, prefer traveling long distances and crunching massive vertical in lightweight running (or otherwise low) shoes, rather than traditional mids or hiking boots. If that sounds appealing, the Raptor may well have been custom built for you.
There is of course a midshoe shank, tweaked by La Sportiva to flex just enough to be unnoticeable when you don't need it. The interior heel of the shoe has an interesting synthetic leather patch sewn over the stitching, to help prevent heel blisters. The sole employs opposed lugs said to improve braking while also reducing impact forces. A GTX version is available if you need it.
The fit and feel overall fall squarely in the conventional category. This is not a minimalist shoe, nor is it overbuilt. Pure trail runners may find that it is simply too much shoe for their needs, but as soon as you go off-trail, or find yourself traveling rocky surfaces, that extra stability is likely to come in handy. Personally I tilt toward hiking, and for that, the shoe is just about perfect.
I can't find anything to complain about here, other than the lack of a mid version. A little extra height would be welcome in talus and loose ground, while preserving the shoe's (relatively) light and nimble character. Overall, the Ultra Raptor strikes me as a distinctly modern shoe, conceived to perfectly fit the needs of today's ultra runners and hikers. For that niche, it's an easy pick.