Mammut Barryvox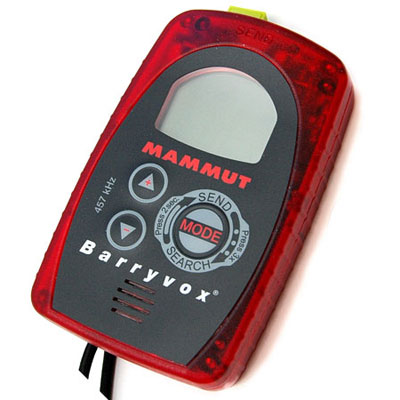 excellent ease of use
fail-safe design
light weight
6oz
The original Mammut Barryvox was a dual mode (digital and analogue) Avalanche beacon designed for speed and ease of use. The Barryvox was also one of the lighter avalanche beacons of its time, at only six ounces.
Avalanche beacons perform two primary functions. First, they serve as a transmitting beacon, emitting a radio signal which can be used to locate persons buried by an avalanche. Second, the beacons can be switched over to a receiving mode, to rapidly locate the signal being emitted by beacons in the transmit mode.
Obviously, this system requires that both rescuers and victims be wearing avalanche beacons, know how to use them, and be well practiced in search and rescue operations. I was attracted to the Barryvox by its compact size, low weight, and ease of use. The Barryvox has several customizable features designed to prevent user error, and has tested well in speed of locating beacon signals.
Users took a great liking to the original Barryvox, making it one of the top selling Avalanche Beacons of its time. Current thinking on Avalanche Beacons favors simplicity and ease of use, and in this regard, the Barryvox remains attractive even today. But be aware that designs and technology have moved on.
The current version of the Barryvox is called the Barryvox Pulse, and this model (along with the Barryvox Element) features advanced multi-burial search filtering, plus a number of other advances which are well worth having.