Montrail Mountain Masochist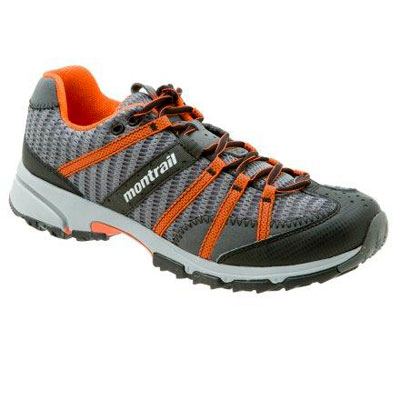 lightweight
midfoot support
open toe box
24.4oz/pair
Montrail's Mountain Masochist is an appealing pick for trail runners and hikers who want moderate to firm support in their footwear without bulkiness or weight.
The 1 lb, 8.4 ounce Masochist (Men's 9.5, measured) isn't much heavier than a true ultralight shoe like the Pearl Izumi Peak XC, yet it still offers a considerable degree of cushion and support. As with the overwhelming majority of today's running shoes, the Masochist is designed in the modern, pronation-controlling model. Depending on your personal philosophy, pronation control is either a must-have feature or perhaps the work of the Devil. I must admit nowadays I trend toward the latter group: blame McDougall and his blasted Tarahumara book.
For the pro-cushion camp (admittedly the majority), the Masochist gives you a sturdy shoe well-suited for running on hard or otherwise rough ground. Montrail gives the Masochist their Trail Shield™ barrier between sole and insole. This light and flexible material does a fine job instead of a regular shank for rock protection. The meshy upper definitely keeps feet cool.
I especially like the fit of the Masochist. The shoe is intentionally designed to be snug around the midfoot while offering a roomy toe box. The extra room in the toes goes a long way toward preventing toenail damage, especially on those long downhill stretches. Despite the extra toe room, the shoe is still nice and snug around my low-to-medium volume foot, keeping me reasonably locked in place.
As for extending the Masochist's range, I wouldn't hesitate to recommend it as an ultralight hiking shoe for those who like to climb mountains in running shoes. Similarly, you can probably run at least short distances over rocky slabs or concrete without risking a catastrophe. Note that the Montrail's low weight does imply some compromises in durability, likely resulting in earlier wear and tear than a true hiking shoe or a heavier running shoe.
I would prefer that the Masochist didn't offer so much structured support. I am perfectly happy with shoes like sandals and flip flops that let the foot pronate naturally, as when you're barefoot. If you are specifically looking for a minimalistic running shoe when it comes to support, the Montrail probably isn't it. However, if that is not a concern, the Montrail is clearly a very strong contender in the light/breathable trail runner category.