Naxo NX21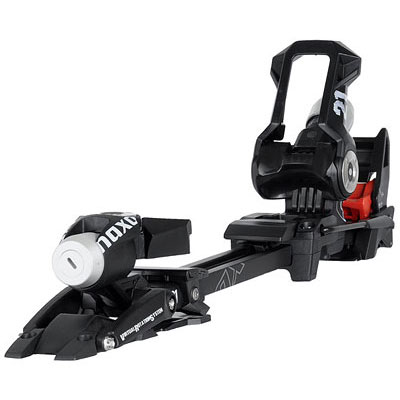 improved stride?
heavy
reliability?
4lbs 15oz (pair w/brakes)
Rumor is Naxo began when a bunch of Fritschi engineers thought they could build a better binding, so they left and started their own company.
Fritschi's loss seemed to be the A/T world's gain; the start-up Naxo was briefly one of the major players in the Alpine Touring binding market, with the NX21 being their premiere offering. Naxo's big idea was intriguing: a double-pivot at the toe intended to allow a more natural, telemark-like stride. Anyone who has spent much time kick-n-gliding on Fritschi bindings knows that a stiff, one-point pivot makes a poor substitute for leather boots and 3-pin Tele gear.
To improve the binding's stride, Naxo engineers added a second pivot at the toe by creating a short toe-piece lever arm. As an added bonus, the second pivot allowed Naxo to use a full-size Alpine toepiece instead of the blunt, shortened toepieces found on other A/T bindings. With that robust toepiece, the Naxo seemed to offer better release and retention quality.
Naturally, this drew the interest of those seeking a "one rig" solution. Problems soon followed, however. Thanks in part to its larger toepiece, the Naxo was a heavy binding. The greater concern was reliability, due to the mechanical complexity inherent in Naxo's 2-pivot design. An extra pivot is an extra point of potential failure.
Did the 2-point pivot work as intended? Maybe. Unquestionably, the extra pivot took getting used to. On flat ground, some users reported a smoother, more comfortable stride. But compared to the stiffer Fritschi gait, the Naxo's advantage was not overwhelming (and no match for Dynafit bindings), and it quickly faded once you began climbing. On steep climbs, the Naxo's extra pivot seemed stubbornly unnatural.
Today, of course, Naxo is no more. The binding is discontinued, and the company no longer exists. Breakable/reliability issues proved fatal, along with ever-fiercer competition from other makers, and the inherent limitations of the Naxo's design.