North Face Electron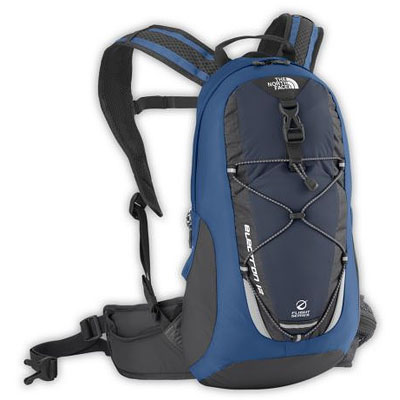 breathable
exolite back panel
lots of pockets
1lb 6.8oz
North Face's 12-liter Electron backpack aims squarely at outdoor enthusiasts who want to run with a hydration bladder and not much more. Trail runners, distance runners, and fast-and-light summiters all fall within this niche.
Primary concerns are a very low profile, plus breathability and more breathability—oh, and a pack that stays firm against the torso while jogging, no bouncing allowed. To meet these needs, The North Face gave the Electron a solid Exolite skeleton that channels air past your body while also adding a noticeable, even frame-like structure to the pack.
The price of this design is extra weight. At 1 pound 6.8 ounces (measured), the Electron is certainly not the lightest 12-liter pack you can find. For those carrying heavy hydration bladders, however, the Electron's extra weight is likely to be more than offset by its unexpected ability to manage loads.
In terms of features, the Electron takes the Bells-and-Whistles approach literally. The pack has a gaggle of running-specific extras, such as a removable rain cover, a safety whistle integrated into the sternum strap's buckle, and hi-glo reflector tape on the rear. There is also a heavy-duty tool loop sewn into the waist belt, implying at least the possibility of a ski carry.
Inside you'll of course find the mandatory hydration bladder pouch (insulated, no less!) with universal reservoir clip. You'll also find pockets, lots of pockets, including a mesh zipper pocket, two tiny Velcro pockets, two more pouches, and a key clip just for good measure. If you need more pockets you got 'em—two exterior water bottle pouches on the sides, plus a mesh zip pocket on the waist belt, plus an omni-stretch pocket and x-bungee cinch. Wait, there's one more—a zip pocket hidden on the side to stash the rain cover.
Now that's a lot of pockets! For some users, there are never enough pockets, thus the Electron 12's feature abundance will be greatly appreciated. Others may find the Electron a bit overdone—though it's hard to argue against the pack's impressive functionality. Be aware that for all these pockets you're still working with a modest 12-liter total capacity, so you'll still have to pack carefully to fit everything.
As an all-purpose around-town daypack, the Electron was a bit too small for my needs, and a bit heavy. I found I liked the Electron most when I was using it as North Face intended: as a trail running pack. I liked its style, and despite the extra weight I liked the Exolite back panel, which does help keep your back cool when you're starting to heat up. The back panel plus the "airmesh" waist belt and shoulder straps make this a solid choice for hard-chargers running toward the redline. If that's you, give it a try.