North Face Roadrunner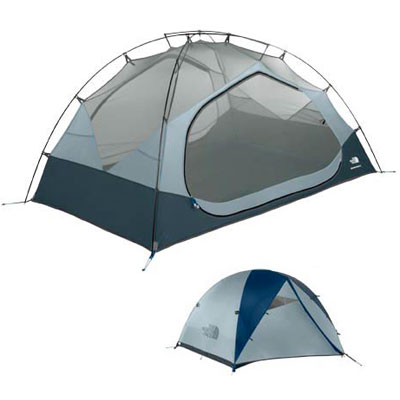 huge twin vestibule
awning cross-pole
clear vinyl window
5lbs 11oz
Truly a sentimental favorite here: The North Face's Roadrunner was an almost-perfect two-man tent. The design and construction of this tent were absolutely superb.
If you want to sit in comfort—no, luxury—through rainstorms; if you like the idea of reclining under a porch to escape the sunshine, this was the tent for you. The only liability with the Roadrunner was its weight. Even in a later, updated version, it still pushed toward six pounds. By today's standards, that's just no longer acceptable. Thus, the Roadrunner is no more.
Still: I loved that clever awning design, perhaps the very first of its kind, which featured a third pole to form twin eves over the tent's doors, allowing you to roll up the sides of the fly and stay completely dry yet well-ventilated.
Roll the fly down all the way to form twin, very generous vestibules, to stash all your gear and keep it dry. And those awnings keep you, dry, too, when entering and exiting in a downpour. To enhance livability, the fly features two clear vinyl windows—yes, windows—so you'll be able to look out at actual scenery when its raining, rather than just drab nylon walls.
If you're car camping, or if the world goes to hell and you need to move into a tent, this is a fine choice. If you're backpacking with a partner who can split the weight, the Roadrunner lets you camp in relative luxury. On your own, however, the Roadrunner never met the weight requirements of a solo tent.