North Face Windwall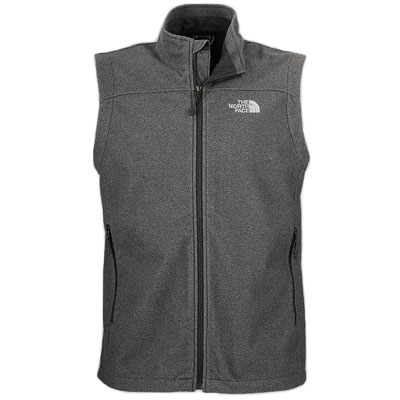 relaxed fit
windproof
42" x 26"
13.3 oz (men's small)
The North Face's Windwall Vest has inspired me to get out something I almost never use: a tape measure. The Windwall's fit is, shall we shall, a little generous.
In fact, I'm swimming in a men's small, and for shirts and jackets I'm normally a reliable men's small-to-medium (US). So let's get out our tape measures and start with the Windwall's dimensions—a remarkable 42" chest and 26" length (men's small, verified)! If you're under 5'9" tall or if you don't have a fondness for twinkies and super-size sodas, this probably isn't your vest.
This sizing discrepancy overshadows what is otherwise a fine windblocking vest. The Windwall uses North Face's proprietary (read: non-GoreTex) windblocking fleece, presumably giving you the equivalent of Windstopper™ performance at a much lower price point. In fact, there is reason to believe North Face's Windwall 1 fleece might actually be more breathable than Windstopper, as it does not use a true laminate membrane, though I can't offer any objective data on this.
Features include a waist draw cord to cinch in all that extra volume, plus two front pockets. There is no breast or internal key pocket. Note that my size small Windwall vest weighs over two ounces more (measured) than my equivalent size small Mountain Hardware Windstopper Tech vest. I'm going to assume this discrepancy is due to the extra fabric in the larger Windwall fit, as opposed to a difference in fleece weight.
I am normally a big fan of windproof fleece vests for backcountry use. My Mountain Hardwear vest accompanies me on nearly every climb, winter or summer, for its outstanding versatility. I was hopefull that North Face's Windwall might be the successor to my aging Tech vest, but to be honest they don't make it in a size small enough to fit me. I can't think of another garment I've ever found where that was true.
Bottom line on the North Face Windwall vest is that it's a nice vest—if it fits. I like a close fit with a vest, as I typically wear windblocking vests directly over a thin layer like a long sleeve shirt. If the Windwall's relaxed fit appeals to you, or if you have a genuinely large frame, I say the Windwall is an easy pick—a great vest at a great price. Medium-frame/slender folks like me, however, are likely to find this vest a bit too roomy. And true size-small bodies will just send it back.