Salomon XT Wings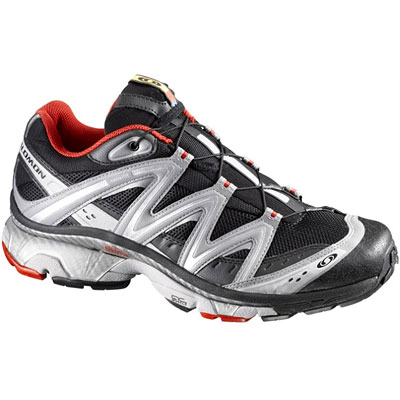 support
pronation control
durability
1lb 11.6oz/pair
Salomon's XT Wings trail running shoes earn so much praise from other reviewers, it almost pains me to admit I can't wear them.
The XT Wings are built on the beefy end of the shoe spectrum, offering perhaps as much ruggedness as you can get in a shoe without moving up to a dedicated hiking model. Salomon's stated design philosophy with the XT Wings is to balance agility and cushioning. At this weight (1 lb, 11.6 ounces, men's 9.5, measured), however, I would argue that the XT's overriding trait is support.
Quite a lot of technology goes into the making of a pair of XT Wings, including an Ortholite insole, a triple density EVA midsole, and a variable-hardness outsole that maximizes grip and durability. On the durability front, the XT Wings include a rubber cap on the toe for extra burliness—a feature that immediately made me recall all the shoes I've torn apart on mountain talus. No doubt the XT would fare better.
While the XT Wings do offer a good bit of cushioning for a trail runner, they are not equivalent to a hard-surface running shoe, nor would I recommend them for urban runners. Breathability is average. The shoe's upper definitely tilts more toward durable rather than ultralight materials. Returning to the issue of support, the XT Wings are a pronation-controlling shoe. That is, they are designed for a heel-to-toe stride, and attempt to correct any resulting heel pronation.
To accomplish this, the exterior sole is fairly wide in the heel, and of course the shoe's padding and asymmetrical structure contribute as well to pronation control. Having recently read Born To Run, I feel compelled to mention that this sort of high-support shoe engineering is not for everyone, and I'll leave it at that.
The toebox of the XT proved roomy for my average-to-narrow foot, and out-of-the-box fit overall struck me as superb (with one notable exception). For running—even on trails—I would choose a lighter shoe overall, but for hiking and general Alpine scrambling the XT Wings seem almost perfect on the strength of their sturdy build and excellent fit.
Alas, as I say, I can't wear these. The last of the shoe features more arch than expected, and this made my arches feel as if they were being high-centered whenever I wore the XT Wings. I did pull out the liners to verify that they weren't the problem. No, unfortunately the contour of the shoe's last just doesn't mesh with my otherwise unremarkable feet. I was hoping over time the insoles would crush down a bit to make the fit acceptable, but here the XT's durability was working against me.
Normally when I find something unusable, I'm not alone. In this case, however, I can't find another report of someone complaining about the XT Wing's last. So, it's kind of an unsatisfying review for me—a significant yet mysterious issue that may not affect anyone else. I'll try the XT again in next year's model. And until then, you can always try out a pair for yourself (*discontinued).