Silvretta Pure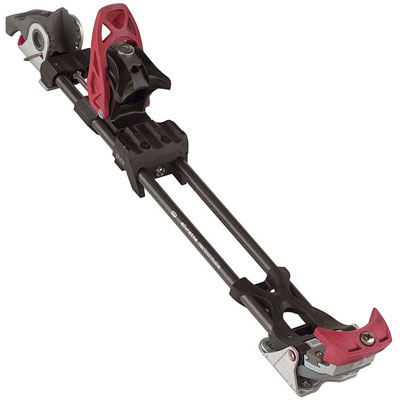 lightest step-in binding
no dedicated toe release
'wobbly' toe
3lbs 3.2oz (pair w/brakes)
If my German is correct, the venerable Silvretta has been making ski gear since 1923, including several 'first-generation' Alpine Touring bindings, many of which enjoyed a healthy measure of popularity.
Eventually, Silvretta's vintage bindings were surpassed by innovative products from other makers, and you might say the company has been looking to reclaim the lead ever since. The Pure/Freeride represented Silvretta's early 2000's attempt to offer a modern A/T binding. After reviewing prototype data on the Pure, I was soon convinced they would be my next bindings.
The Pure (also marketed as the Atomic MX412) nicely carved out a niche between Fritschi-style step-in bindings and Dynafit. Like the Fritschi, the Pure was a step-in binding. Unlike its competitors, however, the Silvretta Pure was also an extremely light binding—nearly as light, in its early drafts, as the uber-slim Dynafit.
For many of us, the Pure looked like a dream come true: Dynafit weight savings without Dynafit quirks. Alas, as you may have noticed, the Pure is now discontinued. Why? Perhaps because of the Pure's toepiece, which lacked a dedicated release mechanism. Release functionality with the Pure relied entirely on the heelpiece (a carry-over from original Silvretta models)—not exactly the most reassuring design.
Also plaguing the Pure was slop—and lots of it. You'd think with a motionless toepiece that the Silvretta Pure would offer one of the most solid boot-binding interfaces. Instead, the opposite was true: to allow the motion necessary for the binding to release, the system introduced a lot of play into the system.
As if that weren't enough, Pure bindings have been haunted by questions of reliability. Persistent reports of catastrophic breakage can be found on the message boards, prompting WildSnow.com's Lou Dawson to initially declare the Pure unacceptable. Attempts to remedy the Pure's various problems led to ever-heavier iterations, all but nullifying its weight advantage.