Sony RX100 III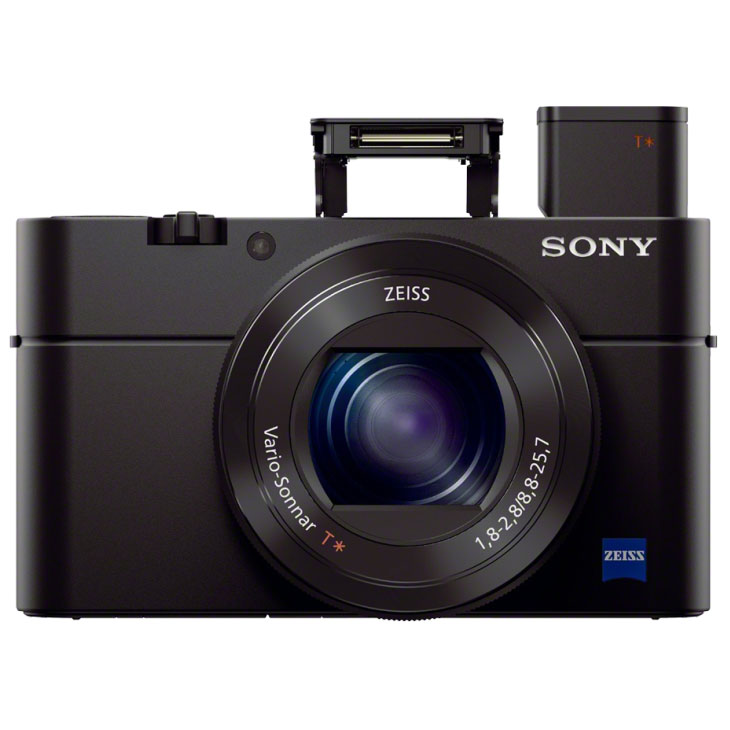 wider 24-70mm lens range
full-sensor video readout
electronic eyefinder
perfection remains elusive
Is it possible the closer we get to perfection, the farther away it seems? The updates to Sony's third-edition RX100 digital compact are practically a wish list of the impossible.
How about a wider, brighter 24-70mm Zeiss lens, for starters? How about a bright, high-resolution pop-up electronic viewfinder? And how about Sony's Bionz-X image processor, which confers the holy grail of HD video: full readout of a modern 24MP sensor? Oh, and 50Mbps XAVC-S recording, just in case you haven't yet passed out from the shock of it.
It's...crazy. It's alien technology, reverse-engineered into a preposterously miniature, pocket-sized gizmo that probably makes your DSLR look and feel like a brick in comparison. It's almost as if Sony scoured the whole of the Internet for criticism of the 1st generation RX100 and then personally addressed each and every one.
No wishy-washy sideways iteration here—the RX100 M3's video is a leap above its predecessors. In terms of video resolution, the 10.3-ounce RX100 III spanks cameras like Nikon's D800 or the Canon 5D MIII. It ranks among the best HD image you will find in any current consumer camera, at any price. And it fits in your pocket (if a tad awkwardly).
Stills continue to deliver crackling Zeiss sharpness at the center of the frame (enough so to embarrass many if not most DSLR lenses), with more than enough total resolution to crop as you please, or print poster-sized landscapes for your wall. Thanks to sensor advances from the Mark II generation, low light performance is now quite good as well.
It's all a bit overwhelming, to be honest. And such very nearly flawless performance makes the RX100's actual flaws, such as they are, seem paradoxically more noticeable. Probably the most grating flaw concerns the lens itself: corner sharpness is far from stellar at 24mm, and overall sharpness not quite grand at 70mm.
This is obvious only when you peer closely into the pixels, at full magnification, but it is there, and it has an oddly potent sting not in spite of but rather precisely because of how good the camera is everywhere else. In reviewing the RX100 M3, I find myself reminded of Hawthorn's story, The Birthmark. Like Aylmer, it's easy to become obsessed with the RX100 III's imperfections.
The RX100 seems to promise us, ultimately, a sort of freedom: the freedom to be rid of our bulky DSLRs, and their heavy lenses, yet still reap the same potency of imaging. It's close, I tell you. Very, very close. As a compact camera the RX100-I and II are peerless; the Mark III is even better. Is that good enough? Sony awaits your verdict...