Atomic R11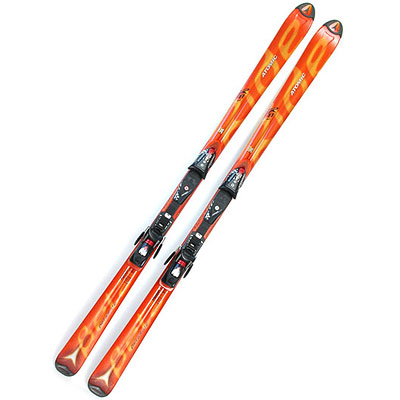 freeride version of Atomic's GS racer
legendary grip & carving
outstanding versatility
too heavy for touring use
Atomic's R11 is the immediate successor of the 10:20, that wonderful ski that introduced many of us to Atomic's Beta Ride technology.
Like the 10:20, the R11 is an Alpine ski based on a World Cup GS racing ski, which means its ancestral voices whisper of high speeds and long, arcing turns carved across smooth sheets of hard snow. If you've ever woken up early in Telluride to get to a freshly-groomed Milk Run as the sun is hitting it, you're the kind of skier who'll love the R11.
Lay down those fast, mach-speed arcs as the wind whistles in your ears. Punch those edges through anything, yes anything the mountain can throw at you, thanks to the Beta Ride technology's legendary grip. The R11, however, adds an all-mountain tilt to that esteemed racing background, allowing you to take these skis into the crud, the powder, and even the bumps.
The ability of the R11 and its free-ride sibling, the R:EX, to effectively handle all terrain has led some backcountry skiers to actually mount Randonnée bindings on the R:EX, and use it as an A/T ski, albeit a heavy one.
The R11 can only be mounted with Atomic Alpine Bindings, making it unsuitable for the backcountry—unless you're simply boot-hiking up and skiing down a short, road or ski area-accessed chute—or willing to use a binding adapter like the Alpine Trekker. As a point of comparison, however, the R11 (and its newer siblings) sets the standard for an all-mountain ski.