Volkl Gotama (2011)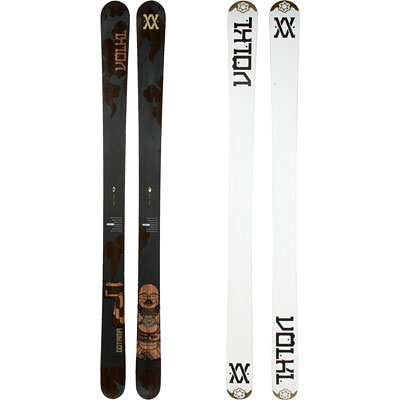 progressive rocker
powder/all-mountain
traditional sidecut for carving
137-106-132mm
Volkl's popular wood-core Gotama ski got a big makeover in 2010: it became a modern powder ski with the addition of a rockered profile.
Or maybe I should say, it temporarily became a modern powder ski, because today, barely two years later, the very same Gotama is now an All-Mountain ski. What the heck happened? In a word, evolution. Skis continue to evolve toward ever-thicker waists, and rocker is now ubiquitous in every ski category. It seems a little quaint, then, to recall that the introduction of rocker to the Gotama was initially something of a scandal.
Yes, I recall back in the day when a shop technician told me they'd dropped the Gotama because they didn't like the way the new ski felt. I bet they're carrying the same ski now. I see the Volkl Gotama, in the 2011 or mostly-identical 2012 version, as a sort of one-foot-in-both-worlds ski.
You get to savor the benefits of rocker in powder and soft snow without feeling too far removed from your carving roots. In fact, forget powder for a moment: pull these out on a frozen spring morning, and they'll absolutely get you through the ice while you're waiting for the snow to warm, after which you'll love the way they charge through the mush.
Note, however, that the Gotama's blend of rocker, width, and relatively deep sidecut is not without consequences. In deep powder, that sidecut can start to work against you. The extra size in the tips translates into extra area and extra weight, leading (for me, at least) to tip deflection issues, especially in choppy powder.
The new crop of 'modern' powder skis avoid this problem by featuring straighter cuts and ever-more-generous rocker and base area. The Gotama still has that magical, turny-loose feeling thanks to its rockered profile. It's just that other skis clearly surpass it now when it comes to deep snow mastery. That has left me wondering where the Gotama fits in my current ski quiver.
I would think of it as a carving-weighted generalist. No, you're not nearly in the orbit of a race-oriented carver like Dynastar's Speed Course ti, but by today's standards, amazingly enough, the Gotama is something of a floaty, turner carver, well suited to a variety of conditions. My guess is lighter skiers (like me) will find it less fun in powder, again because of the sidecut.
But that same sidecut keeps you close to home, so to speak, if you're coming from old-school skis and technique. Maybe that's why I can't bring myself to sell them: they're silky-sweet underfoot on just about all snow types save crunchy hard snow. If you want a true powder ski, you should probably look elsewhere. But as an introduction to the new reality of fat, rockered planks, the Gotama remains hard to top.