Volkl RTM 84 (2013)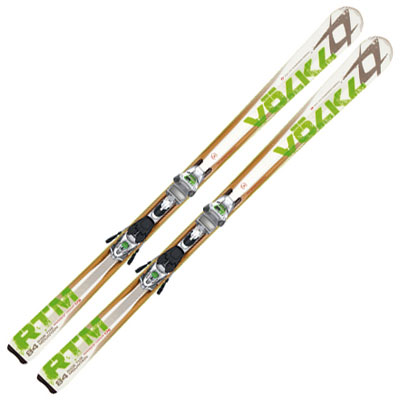 rockered/early rise tip
pronounced edge grip
129-84-111mm
18.0m @ 176cm
Volkl's RTM 84 has been highly regarded in print reviews, topping many a frontside-carver list. Oddly enough, however, during my own on-snow testing at Winter Park, the RTM 84 proved to be one of my least favorite hard-snow skis.
The RTM ("Ride the Mountain") is what we might call a 'modern' frontside ski: extra girth underfoot for soft-snow performance, paired with an subtle early-rise tip to make for easier turn initiation. The RTM 84 succeeds Volkl's popular AC line, so realistically this isn't meant to be an elite-level carver. Rather, this is Volkl's high-end everyman ski, for those who aren't tilting toward powder or fat boards.
'It doesn't feel like a Volkl,' was one comment I heard from another tester, and that would be my primary criticism of the RTM 84. The ski in fact feels far more like a big Atomic carver, with tenacious edge grip to a fault, and a big, damp ride that demands speed to come alive. As for that early rise tip, you really need to stay away from it.
By that I mean that the RTM demands a centered stance, with as little forward-to-rear weight shifting as you can manage. The RTM 84 rewards skiers who don't 'work' the ski. Just stay in the middle of it, tip it on edge, and let it do the work, and all is well. Try to take the reigns yourself, however, and the ski will quickly rebuff you.
In this way, I suppose we might say the RTM 84 is distinctly New School in the carving category. And, to be honest, a large group of skiers in the intermediate-to-advanced category will jump on a pair of these and instantly find themselves making better carved turns than they've ever managed before.
For my taste, however, I like a ski that isn't so imposing when it comes to turn shapes and styles. I much prefer to tell the ski what I want it to do, rather than the reverse. Interestingly, the Volkl Product Manager I spoke to pre-warned me about this tendency of the RTM 84, obviously anticipating exactly this reaction.
Why do I rate this as one of my least favorite carvers? Because other makers are doing exactly this concept, but in a much friendlier package. In particular, I thought the Rossignol Pursuit line (available fall 2012) offered a livelier ski that was far more balanced. I'll cover my opinion a little by noting I only skied a few runs on the RTM 84, on hard snow only. So try them yourself if you're interested—and be sure to compare them to other offerings in the frontside category.