Backcountry Access Tour Shovel*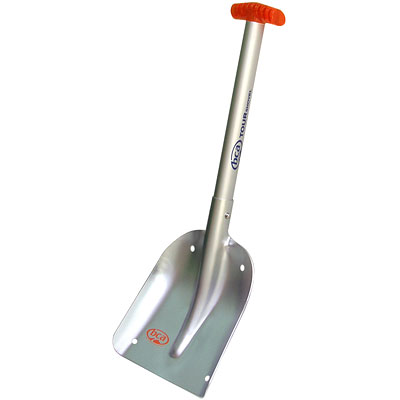 Oval Shaft & T-grip
6061 Aluminum
25" x 9" x 10"
18.5 ounces
The Eastern Sierra imposes certain realities upon us that skiers in other ranges, such as the Rockies or Wasatch, simply do not have to contend with.
Among these is the likelihood you'll be carrying all your gear a long way just to reach the snow. On those kinds of days, a heavy shovel is about the last thing I want to stuff into my already-heavy pack. But, of course, a shovel is also a critical component of your winter camping gear, and it is a mandatory component of your avalanche equipment.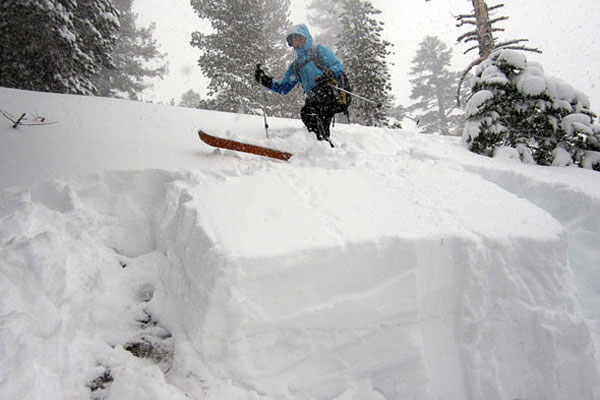 As you might guess, I am therefore always on the lookout for newer, lighter gear. Backcountry Access' new Tour shovel is their lightest and most compact avalanche shovel. Weighing a thrifty 18.5 ounces even (measured), it is among the lightest aluminum shovels currently available.
That measured weight is 2.5 ounces more than the shovel's 16-ounce spec, but the Tour makes up for the extra ounces, to an extent, with its compact size. It is noticeably smaller, for example, than Voile's XLM shovel. The Tour's handle is detachable, and the blade a modest ten inches by nine inches, meaning it won't take up an inordinate amount of space in your pack.
In the field, the Tour's 6061 aluminum construction makes it sturdy enough for the daily tasks of digging pits and shelters, and hard enough to chop through avalanche debris. The Tour's short length does reduce comfort and efficiency to an extent, though not compared to any other compact shovel. Note that the Tour is not a heavyweight shovel. Guides and avalanche professionals may wish to carry a larger, beefier shovel if they expect to be putting it to regular, heavy use.
I'd feel a little stronger about the Tour's appeal if Backcountry Access had managed to get its weight at or below spec. If weight is your absolute primary concern, the Voile XLM squeaks in about an ounce and a half lighter. The Tour's blade and shaft, however, are definitely smaller—at least compared to the original XLM model (*discontinued).