Black Diamond Deploy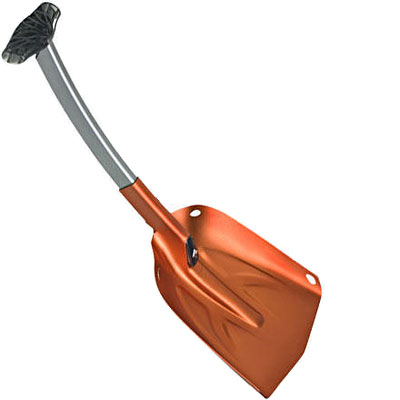 Curved, trapezoidal shaft
Aluminum blade
A powerfull digger
1 lb 4.6 oz (Deploy 3)
Black Diamond's Deploy-series backcountry shovels offer avalanche-country travelers a distinctly different take on conventional shovel design.
Thanks to a stiff aluminum blade and an innovative telescoping shaft that is both curved and trapezoidal, the Deploy provides potent digging performance. And when you're not moving snow, the Deploy folds into a nice, compact shape that fits easily inside your pack. The Deploy comes in two versions: the Deploy 3, which is the smaller, lighter model, and the Deploy 7. At one pound, four ounces, the Deploy 3's weight is similar or slightly higher than most of today's compact snow shovels.
The name 'Deploy' comes from the shovel's ability to unfold instantly, making it ready in an emergency in (almost certainly) less time than other shovels. Both models have telescoping shafts that allow the shovel to fold down into a surprisingly tidy package. Aside from its aluminum blade, the major feature of the Deploy is its shaft.
Black Diamond uses a trapezoidal (rather than round) shaft, which reduces twisting of the handle-blade interface. The Deploy does feel quite solid in-hand, with (arguably) less energy lost due to wiggle or play. Also enhancing performance is the curve built into the shaft, which helps put your muscles into a mechanically stronger position while digging.
Together, these performance advantages do seem to make a difference: pick up a Deploy and start hammering away at hard, consolidated snow. The Deploy is indeed a solid performer. Probably the larger question is whether the Deploy is worth the extra weight. If you're looking for the lightest of the light, you'll want a different shovel. If you can stand the extra few ounces, the innovative Deploy is certainly worth a try.