MSR Hubba NX Solo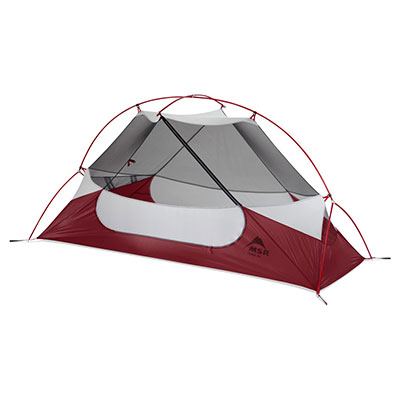 free-standing
premium, modern design
enhanced durability
2lbs 8oz (minimum)
MSR has revamped its excellent Hubba Hubba tents, giving us the new Hubba NX series, which includes two, three, and four-person tents, plus a solo model.
A key enhancement to all the tents is modernization. At their debut the Hubba Hubba tents were state-of-the-art, featuring innovative non-traditional geometry and premium materials. With the NX update, MSR once again sets the bar. MSR has endeavored to retain the best qualities of the line while shedding weight, and they have succeeded.
That said, the NX tents, like their predecessors, are not truly ultralight designs—they are targeting a different niche. If you want the very lightest of the light tents, damn the consequences, you're best advised to look elsewhere. If on the other hand you want a top-drawer tent at a reasonable weight, the NX tents are outstanding.
Of the bunch the NX solo is likely the most weight-challenged. At two pounds eight ounces for body, poles, and fly, the NX solo is slightly less than a pound lighter than the two-man NX, and (as an extreme example), one ounce away from Mountain Hardware's Direkt 2 tent. In other words, that three-pound mark will put you into any number of today's two man tents instead.
Is the NX Solo's (modest) weight savings worth the reduced space? This is a dilemma all solo tents face: they're just not that efficient compared to two man tents. The Hubba NX Solo's design ethic clearly tilts toward feature-rich rather than bare bones, meaning you're paying full price, in terms of ounces, for what you get.
But what you get is an attractive package: a true free standing design that doesn't require inordinate staking; a spacious, non-collapsing body with a cross-pole awning, a rainproof fly with a legitimate (single) vestibule, and a robust three-season construction including comfortably durable rather than ephemeral wall and floor panels.
MSR emphasizes livability in describing its NX line, and that's a good way to think about the NX Solo's priorities. The NX Solo won't drive you batty in a downpour, nor will you be constantly at odds with its design. I wish MSR could have gotten the weight under two pounds, but that's not what they were after. The goals here are livability and rain performance, and for that the NX Solo delivers.