Black Diamond Ascension Skins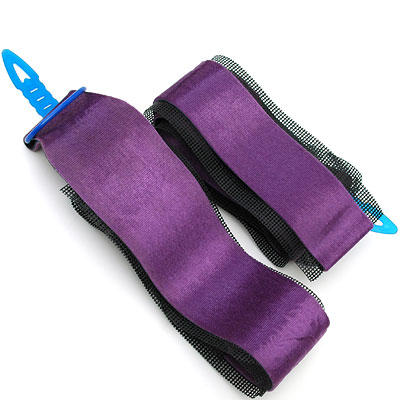 revised glue formula
stiffer for wind handling
excellent attachment system
bring back the purple!
The original Ascension climbing skins achieved a near-legendary reputation for sticky glue performance when they first came out.
In fact, popular opinion on the original Ascension skins has apparently evolved to the point that we now consider them too sticky. As a result, Black Diamond has altered the glue formula as of 2012 to make the glue a little less sticky. Will the new formula prove as reliable, durable, and long-lived as the original formula?
Time will tell, but at least as of this writing, I'm not aware of any hoardes of pitchfork-wielding townsfolk marching on Black Diamond's Salt Lake City headquarters. What I can tell you is the Ascension model (now in bright Orange) has a slightly stiffer hand than the GlideLite, which allegedly makes them a bit easier to handle in windy conditions. Weight works out to be about the same.
The Ascension can be purchased either with standard tails or Black Diamond's "STS" attachment system, which clips to the back of your ski tail. The STS attachment is one of the better systems on the market, for its versatility and security—and compatibility with a wide range of skis. Yes, on flatter ski tails, the rear clip can tend to catch on hard snow, which is annoying.
Ascension skins come with a trim tool so you can trim the skins to match your ski's sidecut. You don't have to do this: using a narrower skin will save weight and still work in a variety of conditions—though it won't work as well as a perfectly-fitted skin, especially when traversing. I would guess that Black Diamond's Ascension skins are easily one of the most widely used skins on the planet. It's hard to go wrong with these.