Black Diamond Factor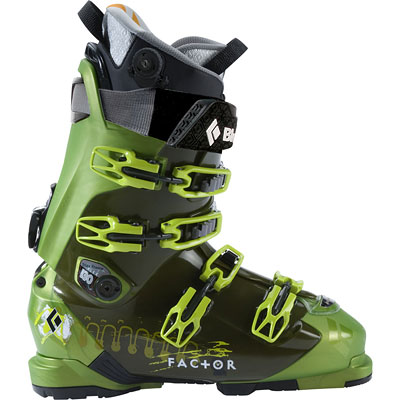 a 'sidecountry' boot
outstanding down the hill
no A/T freakiness
9lbs 2oz/pair
The Black Diamond Factor is the flagship achievement of Black Diamond's 4-year effort to become a major Alpine Touring and Telemark ski boot manufacturer.
Black Diamond did not partner with an existing ski boot maker, nor buy out another brand. They built the Factor from the ground up, developing the necessary infrastructure, design, materials, and tooling capability along the way. As a business decision it was a breathtakingly audacious gamble, but it was also a smart one. Boots remain the weak link in the Alpine Touring gear quiver.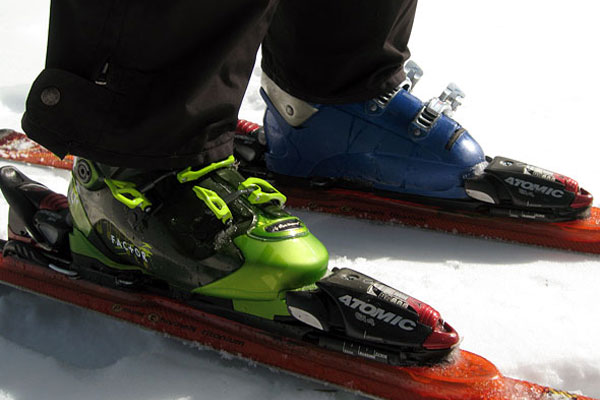 What's wrong with today's Alpine Touring boots?
Plenty. If you're coming from the state-of-the-art world of Alpine Ski hardware, Alpine Touring gear is just plain weird. Start with their non-progressive flex patterns, their ill-fitting, oddly-distorting shells, their humped lasts, their endless compromises.
A/T boots are unquestionably different from Alpine gear, and to a dedicated downhiller, getting used to those differences is likely to be a significant source of frustration. The potential birth of another serious A/T ski boot maker thus sparked a lot of hope in many skiers, myself included. Rumor said the Factor would be free from all those annoying A/T quirks: it would be a no-compromises ski boot without the usual A/T freakiness.
Since its release in 2008, the Factor has generally been well received, including earning several high-profile endorsements plus an honorary Outside Magazine '09 Gear-of-the-Year Award. But the buzz has not been universally positive. Some call the Factor an Alpine boot with a walk mode—not necessarily a complement.
Out of the box the Factor is a handsome green machine that looks a lot like an Alpine ski boot. The Factor is solid, broad, and hefty—a measured nine pounds, two ounces per pair in Mondo 26.5. Swappable Din-soles reinforce the Alpine impressions (Dynafit-compatible A/T soles are optional). Pull out the boa-lace liners, and inside the shells you'll find removable and customizable boot boards, providing a perfectly flat foundation beneath your feet.
The Factor struck me as totally credible on the downhill, even when I snapped them into my heavy GS Alpine boards, even when I skied one Factor head-to-head versus one of my Lange L10 Race boots. The Factor offers a level of downhill performance not found in any other A/T boot. In fact, the Factor utterly crushes favorites like the Mega Ride or the Scarpa Spirit on the downhill.
I am medium on the boa liners. These employ a dial-controlled cable system to cinch the liner up as tight as you please around your foot. This does clearly lock down the foot compared to using the power strap alone, but it is a bit of chore to cinch down for every run, and my foot did start going numb if I left them continuously tight when headed back uphill. One also can't help but think that the boa cables will be vulnerable to wear and breakage over time.
I also found the Factor difficult to get in and out of. The boa closure doesn't seem to open enough for my foot to slide in easily. I didn't like the way the liner got pinched by the shell each time I pulled the boot off, either. I think it's fair to expect some dose of these and other production issues with the early-generation Factors. On the other hand, Black Diamond has an excellent reputation for responsiveness to service issues. And you will, of course, encounter problems with any boot.
For me the one critical concern with the Factor is its weight. 9+ lbs per pair puts the Factor essentially a pound heavier per boot than Garmont's Mega Ride. That weight differential will rule out the Factor for many skiers when it comes to high-level ski mountaineering objectives—even though the Factor's walk mode is absolutely outstanding.
The Factor will certainly delight performance-oriented backcountry skiers who primarily do short (ie, day) climbs or lift-assisted tours. These skiers, after all, comprise the majority of the market, and Black Diamond is savvy to target the Factor to them. As for myself, I realized I was hooked on the Factor when I started thinking not of what I couldn't do in it, but rather what I could. Is it a true A/T boot for hardcore ski mountaineers? Perhaps not. But for everyone else, the Factor's fit, feel, and performance is a game-changer.