Scarpa Maestrale RS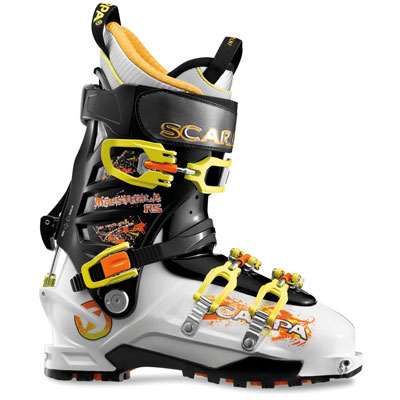 improved stiffness
downhill performance
touring/climbing comfort
7 lbs 1 oz (pair/27.0)
Of the ski boots I've tried, Garmont's Cosmos and Scarpa's Maestrale RS are clearly the two ski mountaineering standouts for 2013.
The Maestrale RS is an updated, Polyamide version of Scarpa's original, orange (Pebax) Maestrale. That first-generation Maestrale remains notable for its excellent climbing and mountaineering performance, but to be honest its skiing performance was always limited by its softness. I loved the original Maestrale heading up on 24-hour marathon-style summit climbs, but I came to dread its "Am I still in walk mode?" softness whenever it came time to ski back down.
The RS version, first and foremost, fixes that issue. The black-and-white RS is significantly stiffer than its orange predecessor. At the same time, the RS remains essentially the same boot, offering the very same excursion and even expedition-worthy features and functionality—climbing performance and comfort chief among them.
To evaluate the Maestrale RS's skiing performance, I decided to spend a day comparing the RS head-to-head versus Garmont's Cosmos on firm groomed snow, inbounds. Admittedly this is an exaggerated test for boots in this class: on backcountry snow, skiers just aren't going to be as sensitive to fine graduations in downhill performance. Still, what quickly becomes apparent is that both boots are very worthy choices.
Of the pair, the Cosmos has a more upright and active feel. The Cosmos' tongue does a better job spreading force across the shin, and the Cosmos' last is flatter beneath your foot, a point that some of us seem to notice and some don't. In contrast, the Maestrale RS feels smoother to me, more forward, more damp, and perhaps a tad stiffer overall. For me, both boots meet that magic threshold where they become fully-credible inbounds performers.
In fact, as I kept the skiing the two boots, the Cosmos and the Maestrale RS, I found myself first of all delighted that two such fine choices should exist within the ski mountaineering niche, and second convinced that we've perhaps reached the point within that niche where there is no longer a good reason to chase ever-better downhill performance.
The fit, feel, and character of the Maestrale RS and the Cosmos are a little different, but, subject to individual taste, it's hard to see how you could go wrong with either boot. Their Walk modes are great. They both ski like a dream. They're stiff enough. They're light. As with modern Alpine boots, we now have the luxury of choosing the ski mountaineering boot that fits your foot—and your needs—best, rather than chasing performance. How cool is that?