Dalbello Virus Tour ID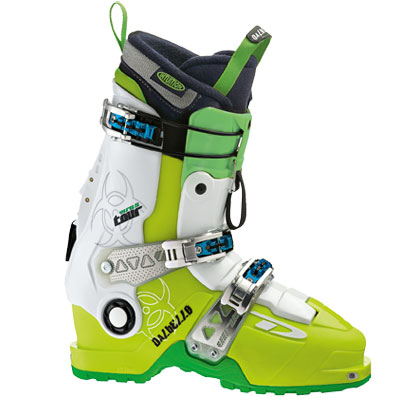 articulating 'Bio Stride' tongue
quite stiff profile
distinctive upright stance/feel
8lbs 3.5oz/pair (26.5)
Much like its singularly-unique lead designer, Glen Plake, Dalbello's Virus Tour ID ski boot is both an innovative and unusual inhabitant of the Alpine Touring universe.
The Virus's patented 'Bio-Stride' tongue adds an additional point of articulation to the cuff, resulting in dramatically enhanced range and ease of motion. When a clasp is released, the tongue essentially has a second hinge just below the top buckle, permitting significant rearward motion of the upper cuff. Lock it back down for ski mode, and you'd never notice it was there.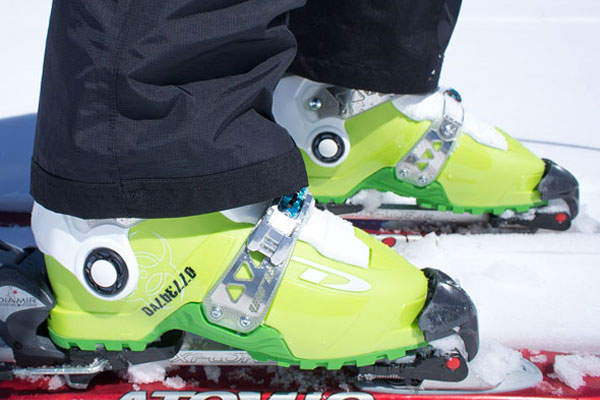 Tour-specific enhancements extend to the basic walk mode as well; even with the tongue hinge locked, the Virus' range of motion is quite good. In conjunction with the upper hinge, the Virus in walk mode must offer one of the freest, most natural strides I've ever felt in a ski boot.
If you think that translates into a soft boot overall, however, you'd be mistaken. Locked down in ski mode, the 8lb, 3.5 ounce Virus Tour (mondo 26.5/307mm shell) is stiff and powerful, comparable to the very stiffest A/T boots currently available. This unexpected blend of power and walking comfort is probably the boot's most striking asset.
On-the-snow feel, however, is dominated by the Virus' strikingly upright stance, reportedly a very stingy 14°. As a point of comparison, the downhill-oriented Black Diamond Factor has a maximum forward lean of 22° (user-adjustable). Is that difference noticeable? I found it impossible to ignore. When skiing, I felt like I was turning on my heels. Over time, I began to adapt to the Virus, but paired with the boot's significant forward stiffness, the minimal lean angle will unquestionably affect your stance and form—whether you like it or not.
I must confess I'm puzzled by the Virus' lack of an additional lean setting to accommodate those (like me) who prefer a more forward stance. Other reviewers have echoed this sentiment, and also expressed concern that the upright stance combined with shell stiffness reduce climbing comfort when using your A/T binding's heel lifts—the cuff reportedly creates excessive pressure across the shin. Ultimately, stance is a personal preference, but be advised that the Virus in this regard is not forward-thinking.
The fit tilts toward roomy. A mondo 26.5 shell measures 307mm—more than enough room for the toes, but perhaps a bit too much room (especially in the heel pocket) for my low-to-medium volume foot. Those seeking a performance fit should definitely experiment with sizing smaller to take full advantage of the Virus' stiffness. Note that the Virus Tour ID ships with a positively gorgeous Intuition thermofit liner, which should keep fit troubles to a minimum.
Conceptually, the Virus attempts to straddle a notably broad range of goals, from stiff-and-mean downhill performance to sneaker-like walk mode comfort to everything in between. To an extent, the boot succeeds in this ambitious plan, but not without compromise. The Virus Tour's stiffness (and weight) definitely pushes toward the freeride end of the spectrum, but the boot is unlikely to challenge top contenders like the Factor.
At the same time, the tech binding-compatible Virus offers remarkable walking (if not always climbing) comfort, evoking comparisons to much lighter boots like, for example, Scarpa's Maestrale. Ultimately, the Virus is perhaps best thought of as a sort of Jack-of-all-Trades, an interesting and decidedly unusual generalist best suited for skiers who want maximum versatility—and who favor a more upright stance.