Exped DownMat 7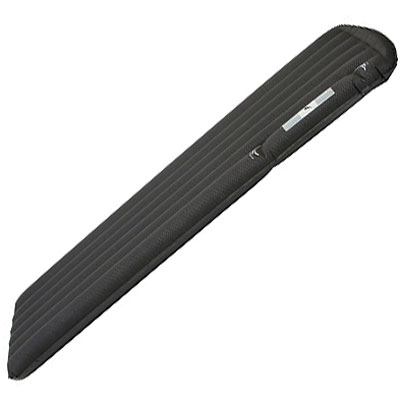 a top winter pick
integrated pump
R 5.9 insulation
31.0oz
Yes, there is down (as in feathers) in Exped's DownMat-series sleeping pads, which include the DownMat 7 and the DownMat 9, in lengths from short to long.
Putting feathers inside your sleeping pad may sound a little strange, but it works out to have exactly the same effect as putting feathers in your jacket: it makes it warmer without making it heavier. Down proves a very clever addition to the compact and winter-oriented DownMat pads, giving them snow-capable insulation levels (R 5.9 for the DM-7 and a whopping R 8.0 for the DM-9) at backpacking-capable carry weights (31oz DM-7 and 35.9oz DM-9, 72" length).
Critical to the concept, the DownMats come with an integrated pump which allows you to inflate your DownMat without using your own breath. Yes, the DownMat's goose down has been treated to make it less vulnerable to humidity, but that doesn't mean you want to be saturating it with your breath. Solution: use the built-in pump, preventing damaging moisture from entering the interior of the pad.
In fairness, the pump doesn't exactly work brilliantly, but it does work. Do some practicing at home to get a feel for how it operates, and expect inflation times to be on the longish side—which is admittedly a bit of a concern in harsher backcountry contexts. Still, among inflatables, the Exped DownMats are the only pads I've owned which I feel fully comfortable using in winter.
Should you still bring a foam pad or scrap to double beneath your torso when camping on snow? Even in the lighter DownMat 7 model, you probably won't need the extra insulation, but it never hurts to have some insurance, particularly as the exposure level grows more dire (how far you are from your car heater). Construction and fabric toughness seem excellent with the DownMats—these don't feel like ultralight pads—but we do carry a lot of sharp tools in winter.
I do think the addition of down provides some small level of insulation when the pad is completely deflated (in contrast to other inflatable pads), but be aware with any inflatable in winter you are absolutely depending on your pad not losing air. That's a big part of why I like the DownMat: it just seems sturdier than other inflatables. So, carry a patch kit, and maybe a foam scrap, and use your DownMat with confidence. This is a great winter pad.