Thermarest Prolite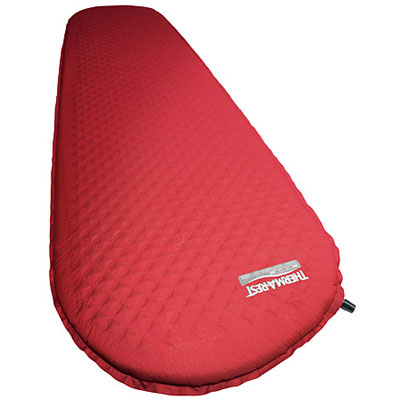 R2.2 insulation
comfortable & compact
refined & reliable
16 ounces
As evidenced by their complete domination of the backpacking market, Thermarest's inflatable sleeping pads have come a long way.
Originally plagued by leaky valves, punctures, and poor insulation, the mattresses nonetheless took the backpacking world by storm thanks to their unmatched comfort and packability. Today's top-of-the-line Thermarest pads—the Prolite™ series—are a far cry from those vintage models, offering an irresistible combination of warmth, light weight, and comfort.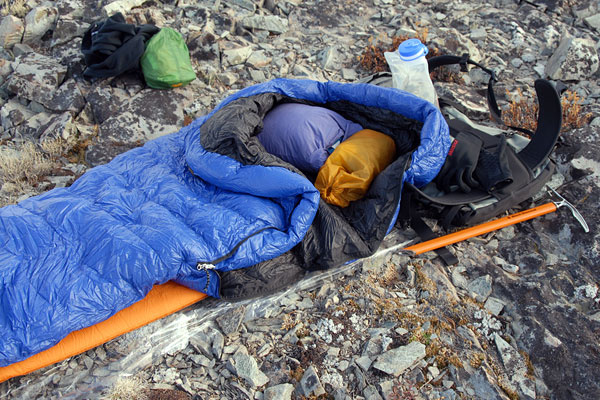 While futuristic new concepts loom on the horizon (ie, the Neoair pads), Thermarest's Prolite-series pads remain among the very best sleep system choices currently available for a wide variety of backpackers and mountaineers. The Prolite pads are evolved, functional, and reliable. And—not to be forgotten—they're highly comfortable to sleep on.
Among the useful details found in the Prolite pads are a micro dot-textured surface to provide friction between your sleeping bag and the pad, helping to insure you and your pad won't slowly migrate away from each other in the middle of the night. Valve issues (especially dust incursion) were one of the banes of the original Thermarest pads, but that problem has long since been quashed.
Thermarest has cut away unnecessary material along the pad's head and foot to reduce weight a tad. Still, one of the weaknesses of the Prolite pads remains their relatively moderate insulating value (R2.2) for the weight (16 ounces in a regular-length pad). Neoair users will be quick to note that the Neoair bests the Prolite in both metrics (albeit slightly).
However, in terms of overall durability—and thus piece of mind—there really is no comparison. The Prolite pads are solidly built and far more likely to survive unexpected encounters with sharp edges. Let me warn you nonetheless that you need to be careful with inflatable pads: they can be punctured, even by sleeping on sharp rocks.
It's never a bad idea to carry one of Thermarest's in-the-field repair kits just in case. Remember, if your inflatable pad pops, you've effectively lost all of your ground insulation. This is a key reason why veteran backpackers will bring along a foam pad (or a scrap of one) to double beneath the Prolite for snow camping. Restrict the Prolite to 3-season use, and it remains a top contender.