Fritschi Axion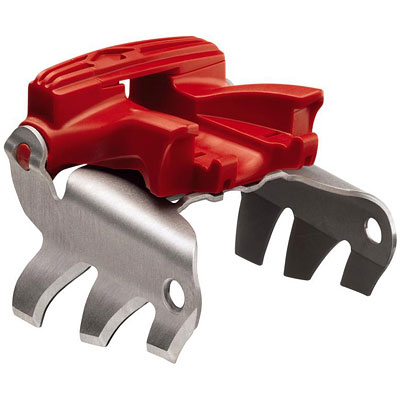 secure grip
on-the-fly engage
heel elevator: yes
10.6 oz (pair/82mm/long)
Fritschi's innovative Axion Ski Crampon fixes two of the three significant liabilities of carrying and using ski crampons.
First, you can deploy or retract the Axion at will without taking off your skis. Second, and perhaps of much greater importance, you can use your binding's heel elevator post. Like Fritschi's Standard ski crampon, the Axion snaps onto the longitudinal strut of a Fritschi Diamir binding, no tools required. Thanks to a pivoting hinge, you can push the Axion into its engaged position with your ski pole tip. When you no longer need the Axion's grip, flip the crampon back to its disengaged position.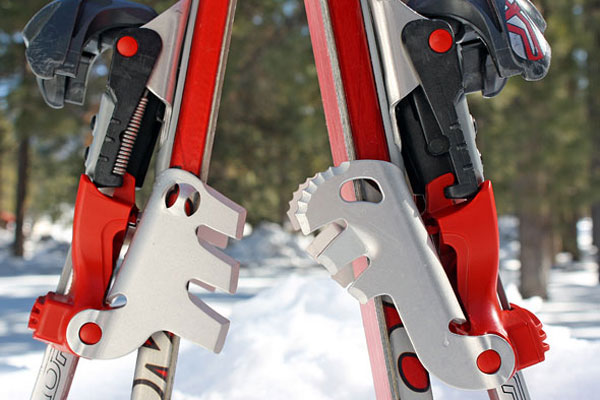 The sequence of moves required to engage and disengage the Axion while underway is a bit tricky at first, but I found I got better at it with practice.
Note that Fritschi says you should not ski downhill with the Axion attached to your bindings, even in the retracted position.
The ability to quickly deploy or remove a ski crampon while skinning is positively wonderful. Southern Sierra skiers tend to encounter a lot of frozen corn and ice over the course of a normal season. The Axion offers impressive security and convenience in the face of these conditions. The addition of the Axion crampon to the Fritschi Freeride binding makes the package arguably the most versatile and potent climbing binding available today.
This is especially so given that the Axion Long can be used in combination with the Fritschi's heel elevator (unlike the Standard crampon). Yes, climb with the heel elevator to your heart's content—the Axion's teeth are long enough to bite firmly into the snow, allowing you to climb steeper, harder snow without having to switch to boot crampons and an ice axe. And if you agenda includes skinning up hard, frozen snow in the middle of the night, the Axion crampon is nothing less than mandatory gear.
There are, of course, some things to be aware of. A Fritschi-Axion combination is such an efficient climbing rig that you can easily get yourself into trouble by ascending into an overly-precarious position. Whenever you ascending on skins, be mindful of the exposure beneath you. If you find yourself thinking that a fall's consequences would be dire, it's probably time to switch to regular crampons and ice axe.
Ski crampons also add extra weight to your load: 10.6 ounces (Axion Long, measured). This is the third liability, and it remains salient with the Axion. Think carefully about the conditions you will face, and whether the Axion makes sense. But when you do need ski crampons, you won't find better.