Garmont Mega Ride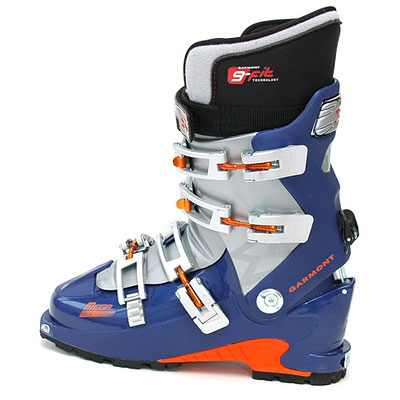 balanced performance
low-to-med volume fit
ski mountaineering
7lbs/pair
Garmont's Dynafit-compatible Mega-Ride G-fit ski boot has emerged as the top contender in the Alpine Touring and Ski Mountaineering markets.
If the low to medium-volume Mega Ride fits you, you'll enjoy the best blend of alpine and telemark performance currently available in a ski boot—at only seven pounds per pair (size 26). The Mega Ride is the boot that all other Alpine Touring competitors are compared to. Does it climb as well as the Mega Ride? Does it weigh as little? Does it ski as well? The answer is usually no.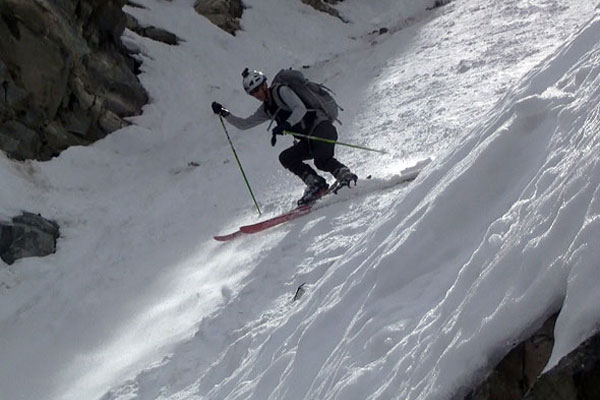 As a final selling point, the Mega Ride is mercifully free of many of the fit quirks that plague other A/T boots.
You'll particularly like the Garmont's flat-enough last (the interior of the shell where the liner sits), which will prevent the usual A/T boot headaches if you're partial to using custom footbeds.
The Mega-Ride uses Garmont's G-Fit thermofit liner, which requires you to visit a bootfitter unless you're very confident with your home baking skills. The G-Fit liners are comfortable. Though there is some concern about thermofit liners in general tending to break down faster than ordinary liners, Garmont has addressed this issue with its newer G-Fit incarnation, which uses multiple-density foams to better control fit and wear over time.
The Mega Ride has a deserved reputation as a fine climber. Many riders, however, will be more concerned about what happens when you turn around and point your skis downhill. Certainly, switching from an Alpine boot to an A/T boot takes some getting used to. The Garmont is of course softer than my Alpine Lange L10's, for example. You may also find, the first time you try them on, that the boots have a disturbingly meager feel to them.
However, the plucky Mega Ride does an outstanding job delivering solid downhill performance at a very modest total weight. Flex hard against the Garmont's shells, and you'll enjoy a surprisingly firm, progressive flex profile. The Garmont's low weight gives the boot a quick, active feel that downhill skiers will immediately appreciate. Heavier skiers will find they tend to overwhelm the boot, and may want to choose a heavier boot to compensate.
As a DynaFit compatible boot, The Mega Ride can of course be used with Dynafit bindings for the ultimate in weight savings. The Garmont fits a low to medium volume foot. If you have a wide foot, or tall arch, you may find it hard to get a good fit. For its fine blend of up and downhill performance, and its freedom from design quirks, the Mega Ride easily earns a recommendation. As I said, if it fits your foot, get a pair. You won't be sorry.