K2 Annex 108 (2014)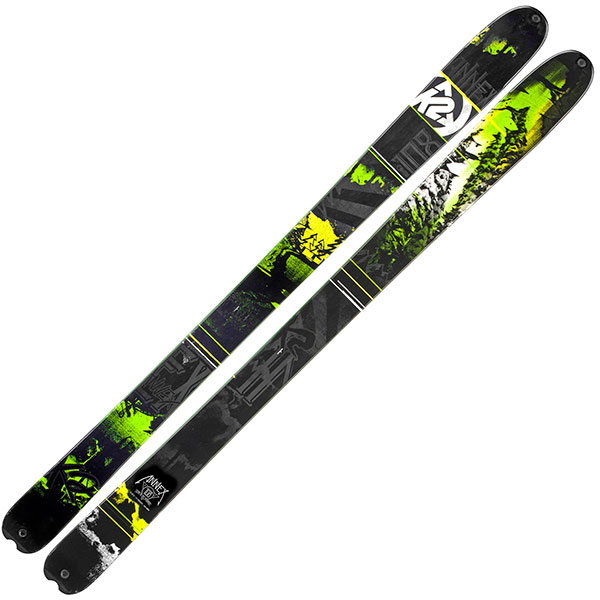 powder/big mountain
credible on hard snow
somewhat undistinguished
139-108-127 R23
The Annex 108 succeeds K2's popular SideStash, offering a powder-tilted All Mountain ride with a slightly more modern and refined rocker shape.
To me one of the big stories of the 2013-2014 skis is a noticeable consolidation of quality within the All Mountain category. The various manufacturers have obviously been spying on each other, and copying elements from the current best-in-class standards (like, for example Blizzard's Cochise). As a result, there is no longer such a wide gap between best and worst within the category.
A key area of improvement seems to be hard snow performance, as makers realize that powder-only performance is specializing itself right out of existence. So, the Annex gives us credible if not scintillating carving ability on-trail, and solid edge grip. Off-trail, as is now virtually ubiquitous in the class, performance is great: fun, turny, and lively.
If the Annex 108 has a weakness, I would say it is that the ski is more of a workhorse than a dazzler. The Annex made perhaps the blandest impression on me of everything I tried this year at SIA. Nothing was wrong, per se—the ski just didn't stand out in any particular way. For K2 brand loyalists, that's certainly no reason to avoid the Annex.
The ski delivers competent performance across a wide range of conditions, from fast long-radius turns in-bounds to good stability in chop to a sweet silky powder ride. Overall, the ski rates solidly in the middle of the pack for me. You don't get the thrills of the Cochise's hard snow ability, or the quickness of a Cham 97, but you do get a solid All-Mountain ride with no major liabilities.