Lange L10 Race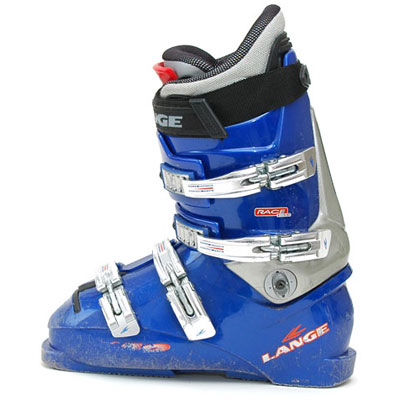 uncompromising performance
kick piddly A/T boots' butts
discontinued
okay, sure, they weigh 11 lbs
Skiers as a group may not tend to commit to much in life (jobs, relationships, etc.), but when it comes to boots, they suddenly turn into fanatic loyalists, wrapping their shells with duct tape and wire to squeeze one more season out of them.
So it is with my Lange L10 boots, which I'd happily ski exclusively—if it wasn't for all that darn climbing you have to do in the backcountry. The L10 is a classic alpine race boot, stiff as hell, for powerful skiers who like to carve up hard snow at breakneck speeds.
You probably don't need a detailed review of this boot; rather, you should keep in mind what the L10, and boots like it represent: performance. Pure, unadulterated downhill performance. Forget comfort, forget walking ability, and above all else forget weight; these boots are all about transferring energy as directly as possible from your skeleton to your skis.
I'm still perfectly happy using my L10's for day tours in the backcountry. They've broken in enough to let me skin up blister-free. I even used them to ski Shasta. And Langley. And Williamson. Then again, I may be crazy. Most people will find an alpine boot too big a liability in the backcountry, mostly because of weight. That extra weight on your feet chews up efficiency, leading to spent muscles and spirit. Worse, put them on your back, and find your base pack weight suddenly jump by over 11 pounds. Ouch!
For now, however, nothing compares to an alpine boot for the downhill. Don't kid yourself. You can find decent performance from the best of the A/T boots, but it's still a compromise. And hey, who says you can't use alpine boots in the backcountry?