Marmot Eiger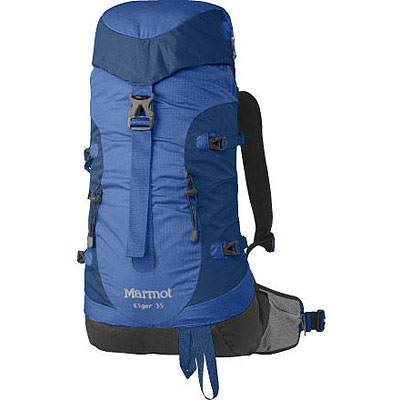 durable
suspension & frame
breathable mesh backpanel
35, 45, 65L sizes
Marmot runs a quirky little company that's starting to make some of the industry's best gear, like the Helium sleeping bag. I picked up an 05' Eiger when I found I needed a small framed pack capable of carrying big loads for massive Sierra dayhikes.
Marmot has made some fine improvements to the Eiger since then, as well as offering the pack in 35, 45, and 65 liter sizes. I wanted a pack that could carry a lot of weight, and the Eiger didn't disappoint: Marmot's Biospan™ suspension helped spread the load evenly, while a stiff frame rod and sheet transfered weight from the shoulders to the hip belt.
Of special interest to Summer hikers is the pack's padded mesh backpanel, which enhances breathability. This is a simple feature, but oddly enough, hard to find in most of the competition. Originally, the Eiger (as pictured) had a fixed lid. This has been changed. Now, the lid is fully floating, which means you can expand the Eiger's volume as necessary (perhaps even enough to include overnight gear), or pull the lid off entirely to save weight.
The Eiger remains a bomb-proof pack, built to be durable, which is either an asset or a liability nowadays, depending on your taste. The construction is rugged enough to take any abuse you can think up, but all that reinforcement and durability comes at the cost of weight. The Marmot Eiger weighs in just over three pounds, which is either just right, if you want durability, or a bit too much, if you're an ultralighter, for a pack in this size range.
Note—Marmot has redesigned the Eiger with added winter functionality, including a choice of ski-carry options, tuck-away axe loops, and a molded backpanel. Best of all, the lid is now removable.