Marmot Front Range Jacket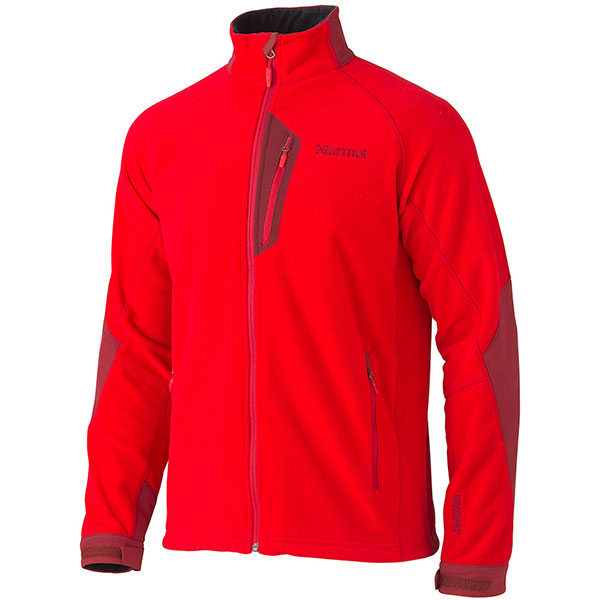 windproof
efficient and sharp
regular (marmot) fit
1lb/men's med
March 25, 2015
For cold but fair-weather Alpine skiing, I love wearing a windproof fleece jacket. But I'd gotten tired of looking like a fuzzy black puffball in my Patagonia R4.
When my old R4's zipper finally gave up the ghost, I knew it was time to find something new. Yes, over its lifetime the R4 did its job admirably, keeping me warm at GS speeds even on ten-degree Telluride mornings, but I was never at peace with its look. The challenge, then, was to find a replacement that matched the R4's performance but looked (hopefully) a little more fashionable.
Yes, I admit it: sometimes I care how I look. It is, I know, a weakness. Surprisingly, finding good wind-proof fleece jackets hasn't been easy. My suspicion is most of you prefer to ski in hard or soft shells when it gets cold, rather than fleece. Clothing makers do not exactly seem to be hopping to put windproof fleece options on the market.
Fair enough. I still say a good windproof fleece is a must-have piece of Alpine (ie, inbounds) ski gear. Admittedly, in the backcountry I shift to a windstopper vest, which I love dearly, and even sometimes pull out for the resorts when I can stand cold air shooting up my armpits. In any case, the R4 kept me warm, which precluded me from replacing it until it died, which (thank goodness) it finally did.
And so I ordered Marmot's Front Range jacket, which has proven to be a fine upgrade (in terms of fit and style) and a decent upgrade (in terms of warmth). No, the Front Range probably isn't as warm, overall, as the R4 was. Both jackets are windproof, but there are warmth advantages inherent to the puffball look which the trimmer Front Range cannot match.
Additionally, the Front Range puts oddly cool softshell panelling on the lower arms—it's still windproof, as far as I can tell, but noticeably less insulated. Perhaps this is meant to extend the jacket's use in high-output activities. Or perhaps it's just the price of better styling. In any case, the Front Range clearly has a more svelte, modern look.
It also comes in a blazing (slightly orangey) red that ensures high visibility. Note that Marmot specs this as regular fit, so it is not truly form-fitting about the body. That's good, if you want to layer some insulation underneath it, and, remember, this is Marmot gear, so it's not as obnoxiously relaxed in the fit department as, for example, much of North Face's clothing is these days.
As a final note I'll mention that the Front Range jacket weighs about a pound (men's medium), making it dramatically lighter than my old R4. In the right weather, you could certainly extend this to backcountry/climbing use, and that reduced weight plus enhanced warmth (compared to traditional fleece) will be much appreciated...